Having worked in and out of the Church for most of my life, I can confidently say that parish and diocese offices are a strange mixing pot of some of the holiest and dangerous conversations. What do I mean by that? I think it tends to happen in any job that we have, but people seem to have a tendency to put others down in a way that is not consistent with what they have done.
Justice, of course, is that hope that all people will be given what they are rightly due. There is a time and a place in the workspace for people to be justly angry that something did not go well or that someone dropped the ball. But justice does not excuse gossip, talking behind someone's back, or wanting to hurt someone's reputation. If you are feeling uncomfortable right now because you know you have done those things at different times, join the club. Part of our fallen humanity is that we don't so much seek justice, but straight up vengeance.
This kind of mentality can tear an office space apart and it's exactly what God warns Jonah about in the reading today. Jonah has this anger that God has not yet destroyed Nineveh. I am sure he even convinced himself that he was justified to ask for wrath and blood. But God very simply and gently reminds Jonah that he has no reason to be angry. God has all the reason to be angry but he perfectly balances justice and mercy.
I think we can learn from this, especially today where our world seems so divided, and always seek to balance justice with mercy. The Catechism defines justice as "the moral virtue that consists in the constant and firm will to give their due to God and neighbor" (CCC 1807). What is every person due no matter what they have done or what sin they have committed? We are all due love, respect, mercy, and the benefit of the doubt. It can be easy to foster anger in our hearts, but God shows us another way.
Something I have found helpful in this regard is to look at my own faults before I try to tear another person down. That makes it much easier to see the necessity of mercy. The Catechism states "God created us without us: but he did not will to save us without us. To receive his mercy, we must admit our faults. If we say we have no sin, we deceive ourselves, and the truth is not in us. If we confess our sins, he is faithful and just, and will forgive our sins and cleanse us from all unrighteousness" (CCC 1847).
Let's all try to make the active choice this week to pray for those we have spoken badly of, to ask for forgiveness for ourselves, and to pray for those who have wronged us. We don't want to end up like Jonah after all, face first down the belly of a beast. From all of us here at Rodzinka Ministry, God bless!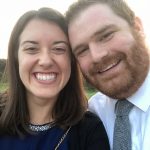 Tommy Shultz is the Founder/Director of Rodzinka Ministry and a content specialist for Ruah Woods, a Theology of the Body Ministry. In these roles, he is committed to bringing all those he meets into a deeper relationship with Christ. Tommy has a heart and flair for inspiring people to live their faith every day. He has worked in various youth ministry, adult ministry, and diocesan roles. He has been a featured speaker at retreats and events across the country. With a degree in Theology from Franciscan University, Tommy hopes to use his knowledge to help all people understand the beauty of The Faith.
Feature Image Credit: Kiera Burton, https://www.pexels.com/photo/multiracial-students-gossiping-about-black-man-with-notepad-6147394/