From our human perspective, wouldn't it be great if Jesus were like the fairy godmother from Cinderella? "Bibbity, bobbity, boo! More faith for you!" We can all enjoy a good chuckle knowing that isn't how Jesus works. And then we have to pause and really sit in the fact that, no, that isn't how Jesus works.
Jesus is a miracle worker. But He isn't ours to command. Jesus is a healer. But we don't get to decide when it is our time to die. Jesus is a teacher. But we do not get to demand knowledge we aren't mature enough or wise enough to handle. God is God, we are not.
Just prior to this Gospel reading in Luke, Jesus told the apostles that if someone sinned against them seven times and seven times asked to be forgiven they ought to extend that forgiveness. He warned them about allowing sin to work through them to the detriment of others. Jesus is paving the way for what it means to not only be a disciple but also a teacher of faith.
This scared the apostles. Did they have enough faith? Who could have enough faith to withstand such temptation and be required to extend such forgiveness? They quickly asked Jesus to increase their faith.
Jesus didn't wave His wand and pour more faith into them. That's not how faith works. Faith is like a muscle. It has to be exercised to grow stronger. We don't need God to give us more, we need to learn how to use the faith we have already been given.
Faith is a free gift from God. As it is a gift, it is up to us to accept it. Once we accept it, we have to learn how to use it, how to rely on it. How? By becoming humble servants of God, trusting in His Will for our lives. We have each been given specific work to do upon this earth which will bring God glory. Just as we have duties within our own family, we have duties as members of the Mystical Body of Christ, our heavenly family.
At the close of our life when we stand before God, let us all hope to be able to say, "we have done what we were obliged to do." May we stand proud of how we followed God's Will, how we obeyed His commands and did the work He had so carefully chosen for us to do.
---
Desde nuestra perspectiva humana, ¿no sería genial si Jesús fuera como el hada madrina de la Cenicienta? "¡Bibbity, bobbity, boo! ¡Más fe para ti!" Todos podemos disfrutar de una buena risa sabiendo que no es así con Jesús. Y luego tenemos que hacer una pausa y realmente darnos cuenta del hecho de que, no, no es así con Jesús.
Jesús es un obrador de milagros. Pero no es nuestro lugar mandarlo. Jesús es el sanador. Pero no podemos decidir cuándo es nuestro momento de morir. Jesús es el maestro. Pero no podemos exigir conocimientos que no seamos lo suficientemente maduros o sabios para manejar. Dios es Dios y nosotros no lo somos.
Justo antes de esta lectura del Evangelio de Lucas, Jesús les dijo a los apóstoles que si alguien había pecado contra ellos siete veces y siete veces pedía perdón, deberían extender ese perdón. Les advirtió acerca de permitir que el pecado obrara a través de ellos en detrimento de los demás. Jesús está allanando el camino para lo que significa no solo ser un discípulo sino también un maestro de fe.
Esto asustó a los apóstoles. ¿Tuvieron la fe suficiente? ¿Quién podría tener la fe suficiente para resistir esa tentación y ser requerido extender el perdón? Rápidamente le pidieron a Jesús que aumentara su fe.
Jesús no agitó su varita y derramó más fe en ellos. La fe no funciona así. La fe es como un músculo. Tiene que ser ejercitado para crecer más fuerte. No necesitamos que Dios nos dé más, necesitamos aprender a usar la fe que ya nos ha sido dada.
La fe es un don gratuito de Dios. Como es un regalo, depende de nosotros aceptarlo. Una vez que lo aceptamos, tenemos que aprender a usarlo, a confiar en él. ¿Cómo? Haciéndonos humildes servidores de Dios, confiando en Su Voluntad para nuestras vidas. A cada uno de nosotros se nos ha dado un trabajo específico para hacer en esta tierra que traerá gloria a Dios. Así como tenemos deberes dentro de nuestra propia familia, tenemos deberes como miembros del Cuerpo Místico de Cristo, nuestra familia celestial.
Al final de nuestra vida, cuando estemos delante de Dios, esperemos todos poder decir: "hemos hecho lo que estábamos obligados a hacer". Que estemos orgullosos de cómo seguimos la Voluntad de Dios, cómo obedecimos Sus mandamientos e hicimos el trabajo que Él había escogido tan cuidadosamente para nosotros.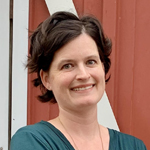 Kate Taliaferro is an Air Force wife and mother. She is blessed to be able to homeschool, bake bread and fold endless piles of laundry. When not planning a school day, writing a blog post or cooking pasta, Kate can be found curled up with a book or working with some kind of fiber craft. Kate blogs at DailyGraces.net.
Feature Image Credit: Brianna Amick, www.pexels.com/photo/exotic-nuts-on-old-tree-stump-1976792/