The acquisition of peace, from a secular framework, is a tricky topic. So many roads appear to lead to peace based on the sayings:
"If you want peace, prepare for war."
"If you want peace, work for peace."
"If you want peace, end poverty/hunger/homelessness/racism/social inequality."
"If you want peace, stop fighting."
"If you want peace, work for justice."
How can all of these be true at once? While I'm not about to contradict a pope (that last observation belongs to Pope Paul VI), our Gospel today offers a very different understanding of where peace comes from. And spoiler alert, it's not something that's the fruit of our labors as these previous sayings imply.
As Jesus is preparing His disciples for His Ascension, He explains another gift He is leaving them. Jesus says, "Peace I leave with you, my peace I give to you. Not as the world gives do I give it to you."
The world teaches us that peace must be earned before it can be received. "If you want peace, then you must do something." This isn't what Jesus expressed to His apostles. The peace that Jesus offers is something even greater than world peace. It is the state of a soul in right relationship with God the Father.
When we find ourselves out of relationship with God, it becomes very challenging to be in right relationship with our neighbors. There is a reason the first Great Commandment Jesus gave us is about our relationship with God. Then the second deals with everyone else. The world cannot give us this kind of peace.
The world is concerned, and rightly so, with the peace between peoples. There are many avenues to peace, like the sayings I dictated earlier. There are many places where peace seems unavailable or impossible to achieve. Peace often is seen as a compromise where no one side wins and everyone is sacrificing something for a balance of peace. Peace of this kind takes work.
If only the world could see that the work would not be so arduous we first received the peace Jesus freely offers. Living in harmony with God naturally brings people into harmony with one another. We discover the unity in Christ that binds us together as part of the family of God. We are not all the same, but our differences are not meant to be divisive.
I love this image from Chiara Lubich, founder of the Focolare Movement. Chiara says,
"Let us imagine that God is like the sun. A ray from the sun falls on each one of us. Each ray is the divine will for me, for you, for everyone. Christians and all people of good will are called to move towards the sun, keeping to their own ray of light which is unique and distinct from all the others. By doing so, they will fulfill the wonderful and particular plan that God has for them. If you do the same, you will find yourself involved in a divine adventure you never even dreamed of. You will be, at the same time, both actor in and spectator of something great that God is accomplishing in you and through you in humanity"
Doing the will of God, receiving the peace He has to give. These are the ways we will bring about world peace that is meaningful and lasting for all people.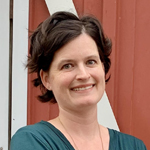 Kate Taliaferro is an Air Force wife and mother. She is blessed to be able to homeschool, bake bread and fold endless piles of laundry. When not planning a school day, writing a blog post or cooking pasta, Kate can be found curled up with a book or working with some kind of fiber craft. Kate blogs at DailyGraces.net.
Feature Image Credit: Burak Kebaber, https://www.pexels.com/photo/scenic-view-of-the-sunrise-11715604/