The word that leaped from the page of my Missal this morning was the word "Beloved." When Jesus is transfigured on the mountain before the three apostles Peter, James, and John, the Father's voice is heard from the cloud saying: "This is my beloved Son. Listen to him."
Every child dreams about being the "beloved" of their father or mother. Beloved implies a certain intensity of loving that is warmer and more tender than the simple word "love." For God to say, "This is my beloved Son" is stronger than saying, "This is my Son. I love him." You might say that beloved is similar to "dearly loved one." Beloved is personal: "my beloved Son." It indicates belonging and affection.
I have meditated on this passage numberless times, and yet I have never been so touched by the word Beloved as I was this morning. Did the apostles even notice the word the Father used for his Son, for they were clearly frightened by what was happening before them? In the New Testament, the word beloved used in the account of the Transfiguration is ἀγαπητός or agapétos. Wondering how else this same word ἀγαπητός might be used in the New Testament I did a little research.
The Greek word ἀγαπητός has two special applications: the Beloved which is the title of the Messiah who is beloved beyond all others by the God who sent him, and Christians who are beloved by God, Christ and one another.
And this is where it begins to get interesting. I discovered that there are 61 occurrences of the word ἀγαπητός in the New Testament. Only seven of those occurrences refer directly to the words of the Father for his Son at the Baptism of the Lord and the Transfiguration, as we see in the Gospel today. The rest of the times we find these occurrences in the New Testament are in the letters attributed to Paul, Peter, James, John, and Jude. They directly address their fellow Christians and talk about individuals in the community with the welcoming word "beloved." A helpful translation for ἀγαπητός is "Divinely-loved ones" or "loved by God," that is, someone who is personally experiencing God's "agapē-love."
Let us listen in on the way these first Christians addressed each other. Paul writes, "I am writing you this not to shame you, but to admonish you as my beloved children" (1 Cor. 4:14), and a few verses later he calls Timothy, "my beloved and faithful son in the Lord." In the letter to the Ephesians, we are admonished to "be imitators of God, as beloved children" (Eph. 5:1). James addresses the readers of his letter, "Do not be deceived, my beloved brothers" (James 1:16). Peter and John also used the term beloved in direct address: "This is now, beloved, the second letter I am writing to you" (2 Pt 3:1), and "Beloved, I am writing no new commandment to you but an old commandment that you had from the beginning" (1 Jn. 2:7).
In the way the writers of these New Testament letters use the term ἀγαπητός, we get a sense of their warmth of heart, of their care for their fellow Christians, of their selflessness in serving them. It is obvious that they loved the Christians in these communities deeply and dearly, that they had warm friendships, that they esteemed one another, and that they were bound together by mutual love and therefore were beloved to one another.
Jesus made clear that we were to love as God loves, that we were to love others as Jesus himself has loved us. The Father speaks of his Son as his dearly loved and beloved one. The apostles followed suit even in using the same term in addressing their fellow Christians.
God loves us totally, unconditionally, selflessly. This is how God loved his Son, and it is how he loves us and those who are our fellow Christians. So the family members and fellow parishioners, friends and colleagues, those we agree with and those we do not, all are dear to us because they are dear to the Father. This wasn't just some spiritualized form of address for the apostle-writers. There is in the New Testament letters a clear sense of living warmth and belonging, of loving deeply, of being bound together by mutual love, of tenderness and esteem. Consistently they address the Christian community as ἀγαπητός, beloved.
I'm taking away three things from all of this and I propose them to you:
I too often see the word Beloved in direct address as a "throwaway" word, in a sense like Dear at the beginning of a letter. I will never hear the Scriptures again without being aware of the warmth, tenderness, the intensity of esteem and affection with which they are written. Hearing the Word of God in the key of ἀγαπητός helps me realize how much God loves me and how much I personally am loved by the writers of the New Testament as I read the Scriptures written to help me become more beloved of God.

I want to practice looking beyond appearances and consider others as dearly loved, divinely loved, and treat them as the apostles did: with warmth, affection, and selfless attention.

I am, and dear reader so are you, God's beloved, his dearly loved one, his esteemed and dear favorite. My heart leaps with joy at being God's beloved in Christ. Often we are urged to

think

about what it would be like to hear God say to us, "You are my Beloved Son." How misleading! God effects within us the belonging that binds us together and makes us the beloved of his heart and beloved of one another. We need only open ourselves to the beauty of all God is accomplishing in us through his grace.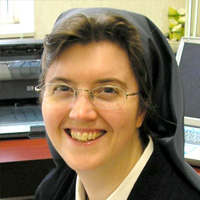 Kathryn James Hermes, FSP, is the author of the newly released title: Reclaim Regret: How God Heals Life's Disappointments, by Pauline Books and Media. An author and spiritual mentor, she offers spiritual accompaniment for the contemporary Christian's journey towards spiritual growth and inner healing. She is the director of My Sisters, where people can find spiritual accompaniment from the Daughters of St. Paul on their journey. Website: www.touchingthesunrise.com Public Facebook Group: https://www.facebook.com/groups/srkathrynhermes/ For monthly spiritual journaling guides, weekly podcasts and over 50 conferences and retreat programs join my Patreon community: https://www.patreon.com/srkathryn.
Feature Image Credit: Commons Wikimedia, https://commons.wikimedia.org/wiki/File:Transfiguration_bloch.jpg