October is full of special days in our family. We celebrate my mother-in-law and father-in-law's birthdays, my birthday, my dad's birthday and my son's birthday. Not to mention all the fun the kids have on Halloween and choosing which saint to dress up as. This month anticipation also begins to build as the weather gets chillier and our thoughts turn toward the holidays.
But no day takes greater precedence in my opinion than what we celebrate today, the Feast of Our Lady of the Rosary. Each year I am filled with a small amount of jealousy as my sister-in-law gets to share this day with her birthday.
Our Lady herself asked us to pray this prayer during at least five apparitions. This request was made for specific intentions: world peace, an end to war, for the pope, bishops and priests, for repentance, and to lighten grief. As the mediatrix of all graces, Our Lady is waiting to aid us in our need, if only we go to her in prayer.
In today's Gospel, Jesus has just driven out a demon. He does not downplay the reality of demons. He does not deny their existence. Instead he makes a rather frightening statement: "When an unclean spirit goes out of someone, it roams through arid regions searching for rest but, finding none, it says, 'I shall return to my home from which I came.' But upon returning, it finds it swept clean and put in order. Then it goes and brings back seven other spirits more wicked than itself who move in and dwell there, and the last condition of that man is worse than the first."
But instead of falling into fear, we can recognize the almighty power of our God and the intercessory power of our Blessed Mother. If you have ever seen an image of Our Lady of Guadalupe, she is depicted stepping on a serpent. This is to symbolize her crushing Satan. The graces that flow from praying the rosary and invoking her intercession are our safeguard against the wiles of the wicked one.
So whatever your situation may be, whether you be celebrating or fearful, run into the arms of our Blessed Mother and know that she will cover you with her mantle of protection and God will fill you with the joy that comes from Him alone.
Hail Mary, full of grace…
---
Octubre está lleno de días especiales en nuestra familia. Celebramos los cumpleaños de mis suegros, mi cumpleaños, el cumpleaños de mi papá y el cumpleaños de mi hijo. Sin mencionar toda la diversión que los niños tienen en Halloween y al elegir sus disfraces de santos. La anticipación de este mes también comienza a aumentar a medida que el clima se vuelve más frío y nuestros pensamientos se vuelven hacia las vacaciones.
Pero ningún día tiene mayor prioridad en mi opinión que el que celebramos hoy, la Fiesta de Nuestra Señora del Rosario. Cada año me entran un poco de celos porque mi cuñada comparte este día con su cumpleaños.
Nuestra Señora misma nos pidió que rezáramos esta oración durante al menos cinco apariciones. Este pedido se hizo por intenciones específicas: la paz mundial, para que se acaba la guerra, por el Papa, los obispos y sacerdotes, por el arrepentimiento y para aliviar el dolor. Como mediadora de todas las gracias, Nuestra Señora está esperando para ayudarnos en nuestra necesidad, si tan solo acudimos a ella en oración.
En el Evangelio de hoy, Jesús acaba de expulsar a un demonio. Él no minimiza la realidad de los demonios. Él no niega su existencia. En cambio, hace una declaración bastante aterradora: "Cuando el espíritu inmundo sale de un hombre, anda vagando por lugares áridos, en busca de reposo, y al no hallarlo, dice: 'Volveré a mi casa, de donde salí'. Y al llegar, la encuentra barrida y arreglada. Entonces va por otros siete espíritus peores que él y vienen a instalarse allí, y así la situación final de aquel hombre resulta peor que la de antes".
Pero en lugar de caer en el miedo, podemos reconocer el poder todopoderoso de nuestro Dios y el poder intercesor de nuestra Santísima Madre. Si alguna vez has visto una imagen de Nuestra Señora de Guadalupe, se la representa pisando una serpiente. Esto es para simbolizar que aplasta a Satanás. Las gracias que brotan del rezo del rosario y de la invocación de su intercesión son nuestra salvaguardia contra las asechanzas del maligno.
Así que cualquiera que sea tu situación, ya sea que estés celebrando o temeroso, corre a los brazos de nuestra Santísima Madre y sabe que ella te cubrirá con su manto de protección y Dios te colmará de la alegría que proviene solo de Él.
Ave María, llena eres de gracia…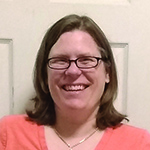 Tami Urcia grew up in Western Michigan, a middle child in a large Catholic family. She spent early young adulthood as a missionary in Mexico, studying theology and philosophy, then worked and traveled extensively before finishing her Bachelor's Degree in Western Kentucky. She loves tackling projects, finding fun ways to keep her little ones occupied, quiet conversation with the hubby and finding unique ways to love. She works at for Christian Healthcare Centers, is a guest blogger on CatholicMom.com and BlessedIsShe.net, runs her own blog at https://togetherandalways.wordpress.com and has been doing Spanish translations on the side for over 20 years.
Feature Image Credit: H. Fernando Nava, cathopic.com/photo/12796-madre-del-noviciado