I come from a family of exaggerators. (Did you notice I didn't say "a long line of exaggerators"? See! I'm working on it! ☺) Anyway, we love to tell stories, look for a reaction, get a good laugh out of someone. It would not be uncommon for you to hear something like: "Did you see that?! There were like 50,000 birds on that line!" When really there may have been 50, tops. Or "I was laughing so hard I almost fell off my chair!" When really we just had ourselves a hearty guffaw.
Isn't it interesting how our human nature has us seeking attention so often. I, for one, love drama. I enjoy giving lengthy explanations of how I've suffered, who has wronged me or how off that person was when they said this or made that decision. It all has to be scandalous. "Oh my goodness! Can you believe it?!"
Now most of this exaggeration is done innocently, in good fun, but in the end, it isn't completely truthful, is it? That is something I have decided to work on this Lent, sins of the tongue. How often do I complain, criticize, blow out of proportion, look for attention when I could just grin and bear it?
One year I gave up complaining for Lent, and let me tell you, I spent a lot of time in silence! This year, I have decided to target criticism. Why do I feel the need to talk about others as if they were wrong? Does that mean I am always right? Do I really think I'm always right? Well…maybe… but deep down, I know that's not true. I have my faults and shortcomings just like anyone else. And if I think I am better than others, that is prideful.
In the end I am no better than the Pharisees who were grumbling to Jesus in today's Gospel saying, "This man welcomes sinners and eats with them." Not only were they criticizing Jesus' actions and the sinners themselves, they were also revealing their jealousy. They wanted a bit of Jesus' attention too, and they weren't getting it, so they began to whine.
Jesus goes on to share with them one of the most beautiful and beloved parables in the Bible, the Prodigal Son. The Father does not focus on the fact that he was treated as if he was already dead when his son asked for his inheritance. He does not focus on the fact that he was abandoned by his child in favor of a life of sinful pleasure-seeking. He does not focus on the fact that his son only came crawling back when he was in dire need. No. His only concern was that he had returned. "This son of mine was dead, and has come to life again; he was lost, and has been found." He was not angry, he did not chide, he simply welcomed him home. I can only imagine how his eyes must have filled with tears and his heart swelled with joy.
And the good news is that this kind of joyous welcome belongs to each and every one of us when we return to God. Whether you also struggle with sins of the tongue or something completely different, God's arms are always open in order to enclose you in a loving embrace.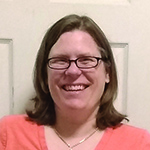 Tami Urcia grew up in Western Michigan, a middle child in a large Catholic family. She spent early young adulthood as a missionary in Mexico, studying theology and philosophy, then worked and traveled extensively before finishing her Bachelor's Degree in Western Kentucky. She loves tackling home improvement projects, finding fun ways to keep her four boys occupied, quiet conversation with the hubby and finding unique ways to love. She works at her parish, is a guest blogger on CatholicMom.com and BlessedIsShe.net, runs her own blog at https://togetherandalways.wordpress.com and has been doing Spanish translations on the side for almost 20 years.
Feature Image Credit: Pompeo Batoni, Wikimedia Commons