The 360 Workshop
A one day retreat reframing parish communications.
Create Authentic Communication




From the heart. To the heart.
In an information age, it is not good enough to simply send out information.
Effective and valuable parish communication comes from the heart and speaks to the heart.
Learn more, leave inspired.
Our 360 workshop is packed with helpful insight to use your bulletin, website, app and social media to better spread a message of hope and inspiration.
Join communicators from area parishes in roundtable discussions and exercises.
With hands-on examples, discussions, dynamic talks and practical guides, you will leave with new knowledge to be a more effective parish communicator.
A one day retreat reframing parish communication.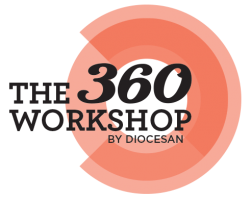 A WORKSHOP OVERVIEW – 10:00 AM – 3:00 PM
The Heart of Communication: Balancing maintenance & mission in the role of communication and stewardship.
Understanding and Optimizing Your Channels: Bulletins, Newsletters, Websites, Email, Apps and Texts: Learn the purpose for each channel, common mistakes, traits of excellence, and practical tips to improve.
Roundtable Workshop: A fast-paced guided roundtable discussion on specific plans to take back to your parish.
Pick from three discussion groups: Effective Online Engagement, Transforming the Parish Bulletin, Increased Engagement with myParish App.
Call for more 360 Workshop Info
"Thanks for giving us, bulletin editors, website directors, and app personal a workshop for us. We don't get noticed much and would like to have more and constant workshops."
"I really needed this. Have a better understanding of the different forms of communication I'm "in charge of" at the parish. As well as practical tips I'm ready to implement to put what I've learned into practice THANK YOU!!!"
"Genuine offer of help. Genuine Catholicism"
"Getting practical ideas to improve communication with parishioners. Thinking about communicating "heart to heart". I am inspired to filter all of my communication with this idea."
"Great way to serve the hard-working people in our parishes."
"I'm glad I went as a Director of Youth Ministry. Even though I am not the primary communicator for the parish, I found a lot of good information for my own ministry."
"A lot of useful information was presented. I am more confident about launching after this session."
"So many practical tips! Lots of time directed to individual questions and needs."