More than a bulletin printer
For over half a century we have been printing the weekly bulletin for churches all over the US. Over the years we have added many new products and services to our lineup. However, now we are finally able to say that, "We can print anything." From postcards to banners to prayer cards to large outdoor signs, we can do it.
We will have many more samples coming soon and will be adding new products to the online store. In the meantime, just give us a call at (877) 212-7317 or complete the form to the right and we will happy to talk with you and discuss your project.
We can help with the design too!
We understand that not everyone may have the knowledge and software to create eye catching, professional looking designs. That is OK. That is what we do and we are here to help.
We can offer all levels of design assistance. Even if you have nothing more than an idea, we can help shape that idea into a professional-looking promotional piece that will deliver your message. Learn more about our design assistant options here.

Marketing Your Message
We often reserve the word "marketing" for when we are talking about businesses promoting products for profit. However, at it's simplest form, marketing is simply delivering your message to the people you hope to see it.
We like to apply simple marketing principles to our Catholic community so that we can increase stewardship, participation, strengthen community and bring us all closer together in our Catholic faith.
Consistency Is Key
When you have decided which occasion that you are going to promote, it is important to think about all the places that your parishioners will be see it. Start with a custom bulletin cover, then add that custom design to a large custom banner to place in high traffic areas. Looking to reach parishioners at home? Great! Add your design to a custom postcard. Lastly, don't forget your social networks and upload a matching Facebook cover photo or timeline post. Still have questions? Don't hesitate to contact us.
Get Started.
Speak with a human at (877) 212-7317 or complete the form below.
Browse Custom Products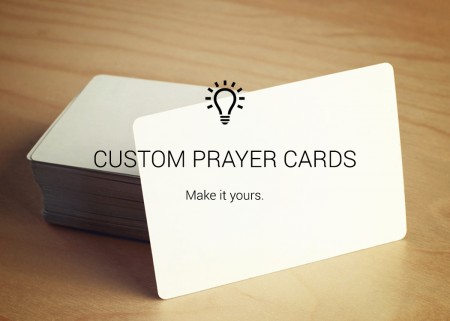 Quick View
Description
Our prayer cards are professionally printed on quality, heavy card stock.  They are conveniently sized at 2" x 3.5." This makes them small enough to carry with you in your pocket, purse or wallet. Also, makes a perfect bookmark for your prayer book.
Continue reading
Quick View
Our custom posters are professionally printed on quality paper using premium inks. These posters are great to hang up around your parish or school to get the word out about an upcoming event or celebration.
Continue reading