myParish App
The app for Catholic life every day
The Leading App for Catholic Parishes
We saw a growing need for parishes to have a mobile presence. The ability for a parish to connect well with their parishioners throughout the week is invaluable. We took deliberate steps when creating myParish App. Everything in the app has one goal in mind; help Catholics orient their daily life towards Christ. Explore our app to see why myParish has become the leading app for Catholic parishes.

MESSAGES
Connect every day with parish news, information and events. Favorite what's most relevant to you, remove what isn't and share the news.

CALENDAR
Stay organized and informed on what's going on within your community. Get details, RSVP, share, and find directions to parish events.

GROUPS
Message specific groups of people. Your parishioners can contribute by starting discussions, commenting, or replying in the app.

READINGS
Look up the daily reading. myParish features each day's readings as provided by the United States Conference of Catholic Bishops.

PRAYERS
The prayers of the Church in one place. View prayers, set reminders to keep your prayer life on track, and send out prayer requests to your parish.

MASS TIMES
Conveniently and quickly find Mass times with the myParish app. You can set reminders for the Mass you wish to attend with a single tap.

CONFESSION
Look up confession times, access a how-to guide, prepare with an examination of conscience and set a reminder for your next confession.

MASSMODE™
myParish MassMode can automatically send you a reminder to silence you phone whenever you are in the vicinity of your parish.

NEWS
Receive news from leading Catholic sources. View news alerts at a glance, go straight to the source with a single tap, and share.

GIVING
Give to your church in a convenient and simple way. You are connect to your parish's online giving portal, so you know that your gift is secure.

PARISH INFO
Connect easily with your parish. All parish contacts are in one place. Location, phone numbers, email and website at a tap of the finger.

BULLETIN
Know what's going on at your parish even if you forget to snag one after Mass with the myParish app. Stay updated and informed.

HOMILIES
Have quick access to weekly homilies via myParish app. Re-listen and reflect on the teachings in your parish throughout the week.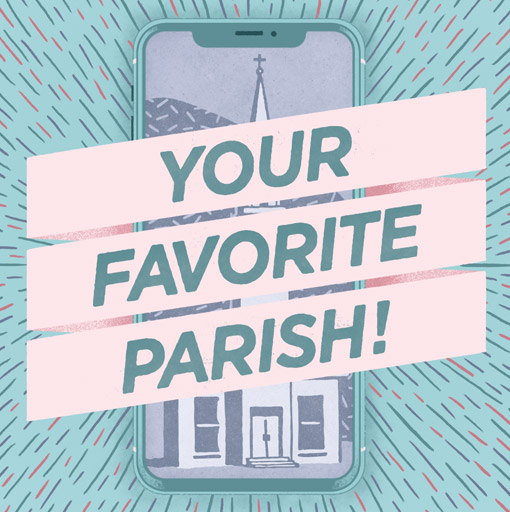 Introducing Favoriting
You can now favorite parishes within myParish app. Parishioners will never miss important messages from you, even if they visit a different parish. You can also have non-parishioners follow your parish as well. Everybody wins!
Interested in myParish App? Give us a call