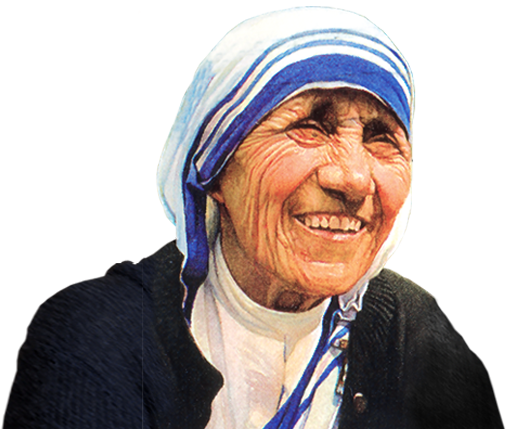 Celebrate her Sainthood
One of the most beloved woman of her time, Mother Teresa set out to serve the poorest of the poor for Christ. This September 4th, the Catholic Church will proclaim her a saint, and therefore worthy of imitation by the faithful. We invite you to join in this momentous occasion, in your home and parish, with our exclusively-designed products.

Give the Church's newest saint a place of honor in your parish with one of our beautiful banners. At over 6 feet tall, these banners each highlight an aspect of Mother Teresa's mission: to see and serve Christ in the poor.
100 Free matching prayer cards
5 designs to choose from
Spanish language versions available
6′ 5″ tall
Stand has quick change system to easily change banner designs

We are pleased to offer this exclusive Mother Teresa banner by Catholic artist Jen Norton as the premiere piece of our Signature Artist Series.
Exclusive Mother Teresa painting by Jen Norton
6′ 5″ tall
Stand has quick change system to easily change banner designs

Mother Teresa spent her life going out into the world to bring Christ to those who needed Him most. What better way for us to follow this example than bearing her image as we go about our daily lives? Our 100%, pre-shrunk cotton t-shirt feature a simple message of mercy and love.
High quality silk screen
Bulk discounts are available

This limited edition tote, made of sturdy canvas, is perfect for Bible study groups, teachers, musicians, parish employees and volunteers: anyone who wants to carry the message of Mother Teresa with them, "to bring souls to God and God to souls."
High quality canvas tote
Zippered top to keep contents safe
Comfort fit handle fits over your shoulder
16″h x 15″w x 2″d
Quantities are limited. Get yours today!

Our durable bookmarks will be a lovely reminder to their recipients to pause and pray, asking for the intercession of the Church's newest saint. Available in both Spanish and English, these cards make for a lovely gift to friends, family and parishioners.
5 designs to choose from
Spanish language options are available