Introducing Favoriting
Now in myParish App

Swipe Right & Favorite Your Parish
You can now favorite parishes within myParish app. Parishioners will never miss important messages from you, even if they visit a different parish. You can also have non-parishioners follow your parish as well. Everybody wins!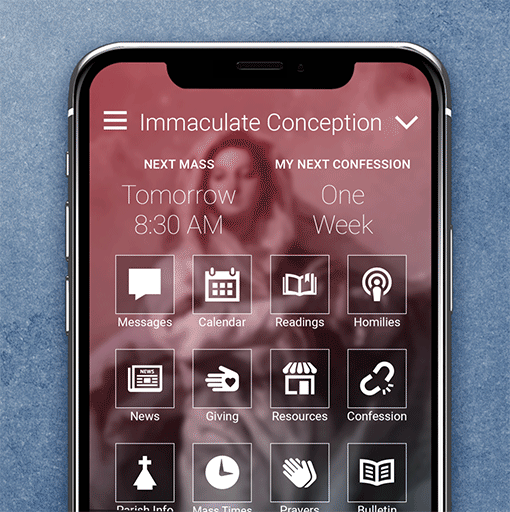 Extra! Extra! Read All About It!
We highly recommend you encourage parishioners to favorite your parish. We think it's so important, we've created promotional material for you to use. Tap the link to download them all.

to Favorite Your Parish
Download a bulletin cover, bulletin messages, app messages, and more with a single push of a button and get everything you may want to use to let your app users know to favorite your parish.
Helpful Tips & Answers

You will need an account to Favorite

App users will need an account before they can add to their Favorites list. A user will be prompted to sign in or create an account if they are not already signed in. Creating an account is free and easy to do. If you need assistance, please out to our app team 1-800-997-8805.

How to find your Favorites list

Once you've opened your app, either swipe right or tap the three horizontal lines in the upper left corner. The dashboard will move to the right and you will see your list under "My Parishes." By default, no parish is included in your list. To add a parish, simply tap the word "Favorite" in the upper right corner. To remove, tap the 'X' to the left of the parish you wish to remove.

It's possible you won't see Favoriting in your app

For Apple users, iOS 10 or above is required. Unfortunately, because of newer technology, phones operating on iOS 9 or lower cannot upgrade to the newest version of myParish App.