He is Not Here Greeting Card
by Catholic Artist Jen Norton
Celebrate Easter
Our Easter cards are printed on high-quality card stock and sized at 5×7 inches. Envelopes are included!
Customize Your Message Easter cards are a great way to spread the joy of the Christ's passion and rising into Heaven! Let your congregation know of special Mass times by personalizing this card with custom text, which may be added to both sides of the interior.
Please allow up to 10 business days for delivery of your Easter cards from the time your order has been finalized.
OUR GUARANTEE & NO-HASSLE RETURNS
read more

Talk to Customer Care at
877-212-7317
SKU: EASTER23_A_ENG_GC_JN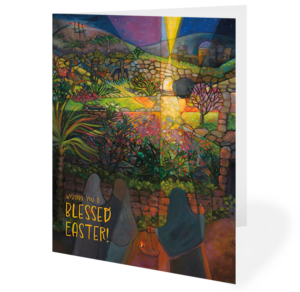 Printed in the USA
Exclusive Designs
100% Satisfaction Guarantee
Product Details
Signature Artist Series
Jen Norton
We are pleased to offer this exclusive Easter greeting card depicting Christ's empty tomb by Catholic artist Jen Norton as another premiere piece of our Signature Artist Series. This colorful and poignant design will surely inspire during the Lenten and Easter seasons.
According to her website, Ms. Norton "believes that through art, one can hear the whisper of a mighty Creator."
Questions & Answers
No FAQs Found
Customer Reviews
Only logged in customers who have purchased this product may leave a review.