Regina Caeli
Queen of Heaven
Prayer Card
On August 22, the Church celebrates the Queenship of Mary, recognizing her as the Queen of Heaven and Earth. The feast day was established by Pope Pius XII in his encyclical Ad Coeli Reginam, in which he called her the "Lord Queen of Heaven and earth…exalted above all chairs of Angels and the ranks of the Saints in Heaven, standing at the right hand of Her only-begotten Son, our Lord Jesus Christ." He urged Catholics to bring their troubles and sorrows to Mary and seek her intercession.
OUR GUARANTEE & NO-HASSLE RETURNS
read more

Talk to Customer Care at
877-212-7317
SKU: MaryQoH23_A_ENG_PC
OTHER ITEMS YOU MIGHT LIKE
OTHER ITEMS YOU MIGHT LIKE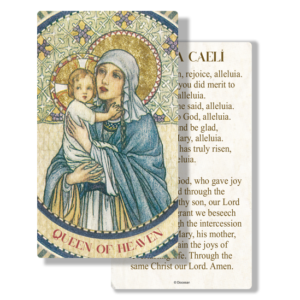 Printed in the USA
Exclusive Designs
100% Satisfaction Guarantee
Product Details
These premium cards are professionally printed on quality, heavy card stock. They are conveniently sized at 2″ x 3.5." This makes them the perfect size for your pocket, purse, or wallet. The glossy, UV finish makes our prayer cards more durable and will last longer under normal usage.
Questions & Answers
No FAQs Found
Customer Reviews
Only logged in customers who have purchased this product may leave a review.