Our Lady of Fatima 100th Anniversary – Bookmark
May 13, 2017 marks the 100th anniversary of our Blessed Mother's appearances to three young children in Fatima, Portugal. The requests Mary made to these children still hold true today: pray for peace, pray the Rosary, do penance for sinners. Our bookmarks offer not only a lovely image of Mary, but also a short timeline of the events surrounding these visions.
English and Spanish versions available.
Bookmarks are 2″ wide by 8″ tall.
OUR GUARANTEE & NO-HASSLE RETURNS
read more

Talk to Customer Care at
877-212-7317
SKU: Bookmark-OLOF-100th
OTHER ITEMS YOU MIGHT LIKE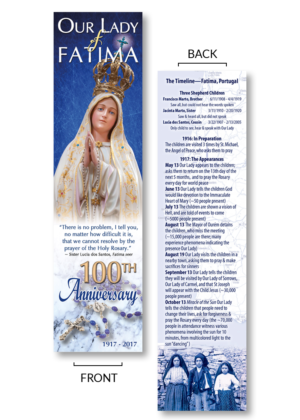 Printed in the USA
Exclusive Designs
100% Satisfaction Guarantee
Product Details
Questions & Answers
No FAQs Found
Customer Reviews
Only logged in customers who have purchased this product may leave a review.