Saint Teresa of Kolkata
Bookmark by Featured Artist Jen Norton
Lord, help us to follow the selfless example of  St. Teresa of Kolkata. These lovely bookmarks not only remind us to beg the intercession of one of the Church's most beloved saints, but will be cherished as an beautiful addition to our prayer lives.
Bookmarks are 2″ wide and 8″ tall.
Signature Artist Series
Jen Norton
We are pleased to offer this exclusive Mother Teresa bookmark by Catholic artist Jen Norton, part of our Signature Artist Series.
According to her website, Ms. Norton "believes that through art, one can hear the whisper of a mighty Creator." Her passion for color and stories shines through in this exquisite portrayal of the Church's newest saint. This joyful representation of Mother Teresa will certainly be a welcome part of your faith community's atmosphere for years to come.
OUR GUARANTEE & NO-HASSLE RETURNS
read more

Talk to Customer Care at
877-212-7317
SKU: StTERESA_F_ENG_BM
OTHER ITEMS YOU MIGHT LIKE
OTHER ITEMS YOU MIGHT LIKE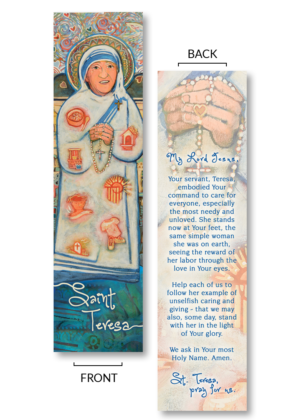 Printed in the USA
Exclusive Designs
100% Satisfaction Guarantee
Product Details
Bookmarks are 2″ wide and 8″ tall.
Questions & Answers
No FAQs Found
Customer Reviews
Only logged in customers who have purchased this product may leave a review.