Please God, the Angels, & the Saints
Saint John Vianney
Prayer Card
Do not try to please everybody, try to please God, the angels, and the saints.
We are pleased to offer this exclusive St. John Vianney prayer card depicting The Holy Curé de Ars. This poignant design will surely inspire all year long.
OUR GUARANTEE & NO-HASSLE RETURNS
read more

Talk to Customer Care at
877-212-7317
SKU: STJV_A_ENG_PC
OTHER ITEMS YOU MIGHT LIKE
OTHER ITEMS YOU MIGHT LIKE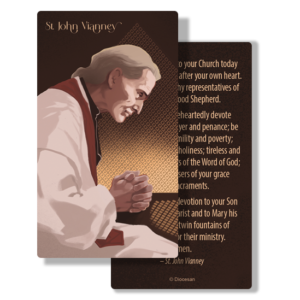 Printed in the USA
Exclusive Designs
100% Satisfaction Guarantee
Product Details
These premium cards are professionally printed on quality, heavy card stock. They are conveniently sized at 2″ x 3.5." This makes them the perfect size for your pocket, purse, or wallet. The glossy, UV finish makes our prayer cards more durable and will last longer under normal usage.
Questions & Answers
No FAQs Found
Customer Reviews
Only logged in customers who have purchased this product may leave a review.