After celebrating the glorious day of Christ's birth, the liturgical calendar remembers Saint Stephen, one of the first converts to the Catholic faith and first of many to give their lives in the name of Christ. It's a sudden and stark contrast between the two feasts, but in that, we see the divine power of Christ and his ability to transform even the hardest of hearts. In the narrative of St. Stephen's martyrdom, we are introduced to Saul, a ruthless persecutor on a mission to destroy the young church.
However, a few chapters later, we see Saul's dramatic conversion on the road to Damasus, which was a launching point for him to eventually become one of the most influential saints in all of Christianity. There is no question that Saint Stephen's Martyrdom had a profound impact on Paul, not only in the fact that he witnessed his death first hand but because of the grace and forgiveness that Stephen asked of God for his executioners.
Saint Stephen is a perfect imitation of Christ. He, like Christ, died praying for his executioners. He did not compromise his faith out of fear of being rebuked and killed. He stood firm in his faith and shared the gospel until his last breath. He didn't do it because he knew that Saul's heart would change; he didn't do it because he knew that his name would forever be known by generations of Christians after him. He did it because he had a profound and deep love for Christ and understood in the depths of his soul that Christ is where salvation is found.
We are fortunate to live in a time and place where we are not killed for proclaiming the name of Christ, but how often are we hesitant to even mention his name for fear of social martyrdom? How often do we fear our family and friends turning their backs towards us because we spoke the truth of the gospel and our culture's failure to live it?
We know the church's teaching on marriage, sexuality, life, immigration, and more, but we avoid telling those we interact with about the truth of these issues for fear of being called "intolerant" and "judgmental." Little do we know that even when we stand firm in our beliefs, God could be working in the hearts of our persecutors just like he worked in the heart of Saul.
Pray today for the intercession of Saint Stephen, the first Christian martyr. Let him be your guide as we approach the new year to stand firm and true to the teaching of Christ and the Church and remember to continually pray for those who persecute you because you stood firm in the name of the Lord.
Saints Stephen and Paul, pray for us.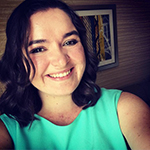 Hannah Crites is a native to Denver Colorado and graduate of Franciscan University of Steubenville. She has written for numerous publications and blogs including the Chastity Project, Washington Times, Faith & Culture: The Journal of the Augustine Institute, and Franciscan Magazine. She is currently working in content and digital marketing for a small web development and digital marketing agency. Connect with her through Twitter (@hannah_crites) and Facebook. Check out more of what she has written at https://hannahcrites.wordpress.com/.