There simply isn't enough time to meditate on our Gospel today. Pope Saint John Paul II spent weeks meditating on it, as it was one of the critical inspirations for his Theology of the Body. He notices the gravity with which Jesus says "in the beginning it was not so," and begins to wonder, "What is it about the beginning that makes it so significant?".
His early reflections culminated in the realization of the "spousal meaning of the body." This phrase, central to John Paul's reflections, is hard to define succinctly, but we can get close. The body reveals the person. It is a window into the person, revealing his thoughts, feelings, personality, and ultimately his identity. In the beginning, that is, in Eden, this was transparent. The moment Adam saw Eve, it was clear that she was a person like him, and that she was extraordinarily beautiful. They were able to be naked without shame together, truly seeing the other as a gift.
This is the core of the spousal meaning of the body: having been created as a gift from God, we are meant to imitate His Trinitarian life of infinite love. Through our bodies, we reflect the Creator, and through our sexuality we reflect His boundless gift. In our relationships with others, in our bodily life, we are meant to express this total gift, ultimately through our sexuality. We ought to carry forth God's love, and this comes prewritten in our bodies.
This provides the context for Jesus' words in today's Gospel. In the beginning, marriage was the flowering of this spousal meaning of the body, the ultimate expression of self-gift through sexuality, imaging God's Trinitarian communion of love. This is still what marriage is. With God's grace, marriage today lives up to this original state of unity and innocence.
Still, Jesus does not deny the disciples' words when they point out that it is better not to marry. He points out that not all can accept this, but only those to whom it has been given. Saint Paul speaks similarly in 1 Corinthians 7:7, saying that "each has a particular gift from God." Some are called to marriage, and some to continence for the kingdom.
We can see why this is. In marriage, spouses live out the spousal meaning of the body in a natural and direct way. Through the very sexuality which speaks of self-gift, they give themselves completely to another in a comprehensive (psychological and physical) union, becoming one flesh.
In the priesthood and consecrated virginity, men and women live out the spousal meaning of the body in a supernatural, indirect way. They express the same impulse toward self-gift, but give themselves entirely to their heavenly spouse. Both Christ here and Saint Paul in 1 Corinthians 7 call this the higher calling, since it mirrors life in heaven, when we will give ourselves entirely to be God and no longer be married.
As mentioned, each has his own gift from God. The superiority of continence for the kingdom is not meant to downplay the beauty of marriage, but it is something to give thanks for. God calls specific men and women to consecrated celibacy, and he gives the grace for them to reflect His Son's life as a virgin dedicated to the kingdom. He also prepares specific men and women for holy marriage, giving the grace to maintain a one-flesh union that reflects the boundless love of the Trinity.
In both cases, we have reason to give thanks, reflecting the praise of God echoed in both our First Reading and Psalm. It all comes from the Lord, Who does the work and wins the fight for us. We need only to trust Him, cooperate, and be grateful.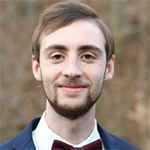 David Dashiell is a freelance writer, editor, and proofreader based in the Pittsburgh, Pennsylvania area. His writing has been featured in Crisis Magazine and The Imaginative Conservative, and his editing is done for a variety of publishers, such as Sophia Institute and Scepter. He can be reached at ddashiellwork@gmail.com.
Feature Image Credit: Moises Becerra, https://www.cathopic.com/photo/10531-creacion-obra-capilla-sixtina