I can still remember clearly after St. John Paul II became Pope, he said, "Be not afraid". It has remained with me to this day. In today's reading from Acts, Jesus tells Paul in the vision, "Do not be afraid". Paul would have been dead several times if it wasn't for the Lord keeping him alive. He went through a lot of pain, including beatings and stoning. The Lord gave Paul a perk. He let him know that he would be OK while in Corinth. I'm sure Paul felt a great relief knowing he would have some smooth sailing for a while.
In today's Gospel as usual, Jesus would fit right in. It Is a short Gospel but it says a lot. We will weep and mourn while the world rejoices. It reminds me of the life of Noah. Everybody was partying except Noah and family. They did their best to remain faithful. And because of that, and a few thousand Gopher trees and a lot of work, the Lord saved him and his family and the animals. Remember, he didn't build the ark on a long weekend. Some say it took two to three years.
Today, there's a lot of weeping and mourning going on. Some of it is very personal and some is going on in faraway countries. The pain and grief are indescribable. In the midst of that pain and suffering, people are opening their hearts and homes to refugees seeking some kind of safety. Praise God!
Jesus tells us that there will be time when he comes back again. He will not allow anyone to take away our joy. Can you imagine that?
For me, the best way to avoid fear is to say, Jesus. I trust in You! If I really do trust him, there is no room for fear. So, be not afraid.
Serving with joy!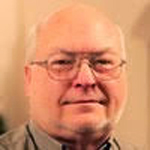 Deacon Dan Schneider is a retired general manager of industrial distributors. He and his wife Vicki have been married for over 50 years. They are the parents of eight children and thirty grandchildren. He has a degree in Family Life Education from Spring Arbor University. He was ordained a Permanent Deacon in 2002. He has a passion for working with engaged and married couples and his main ministry has been preparing couples for marriage.
Featured Image Credit: Priscilla Du Preez, https://unsplash.com/photos/0X_xuOr_xbY