"Am I not here, I, who am your Mother? Are you not under my shadow and protection? Am I not the source of your joy? Are you not in the hollow of my mantle, in the crossing of my arms? Do you need anything more? Let nothing else worry you, disturb you." – words of Our Lady of Guadalupe to Juan Diego on Mount Tepeyac in 1531.
These words came at a time when Juan was greatly distressed about his sick uncle. Rather than return to Tepeyac as instructed by Our Lady the day before, Juan took matters into his own hands and began in haste to find a priest to care for his uncle. On the road, Our Lady appeared and asked Juan what was wrong. He explained, saying he would return after he found a priest to care for his uncle. How loving and reassuring are Mary's words then… and now.
Our Lord Jesus from the Cross entrusted Mary to us as our Mother, yet how often we still take matters into our own hands rather than turn to her for help. We rush around for solutions to our problems when we need to turn first to Mary, the woman "clothed with the sun, with the moon under her feet, and on her head a crown of twelve stars." If only we would pause and listen, we would hear the Holy Spirit speaking through Mary saying again, "Do whatever he tells you."
During this Advent season, Our Lady of Guadalupe's message reminds us to come away to a quiet place to reflect and adore Jesus the "fruit of her womb." Jesus wants to give us the peace that surpasses all understanding. A perfect place to receive this gift is in Eucharistic Adoration.
Find an Adoration Chapel where Jesus is present in the Blessed Sacrament. Can we commit to and hour or two each week for the remainder of Advent? We can prepare our hearts to receive the Christ child as we prepare our homes to receive loved ones. There's no better gift to give those we care about than the gift of prayer.
Our Lady of Guadalupe, continue to intercede for us and lead us more closely into the heart of your Son and Our Savior Jesus Christ. May we model your humility and trust, and share the hope that we have with all those around us.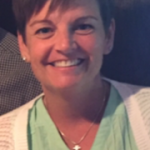 Amy Oatley is a wife, mother, and Secular Franciscan (OFS), passionate about social justice, advocating for the dignity of every human life. A writer since elementary school, she currently enjoys freelance writing for diocesan FAITH Magazine and is privileged to work as the RCIA and Adult Faith Formation Coordinator at Our Lady of Consolation parish in Rockford, Michigan.