Honoring Mary
The month of May has been set aside for honoring Mary for centuries in the Catholic Church. Many of us have fond memories of May crownings and hymns to Mary such as "On This Day, O Beautiful Mother" (my mom's favorite.) This year is especially important, as we celebrate the 100th anniversary of the appearance of Mary in Fatima, Portugal.
We must speak with great care about our devotion to Mary, as it is often misunderstood by other Christians. Catholics do not worship Mary (or anyone else besides God the Father, Son and Holy Spirit.) We honor her as the Mother of Jesus – her "yes" to the angel Gabriel changed the world, and is a model for us of complete surrender to the will of God. Just as we may have a photo of our mother in our home, we Catholic put pictures and statues of Mary to remind us of her importance in God's plan for our salvation. We also know that Mary, conceived without sin, sits very close to  her Son in Heaven, just as a queen sits next to the king. Those in Heaven are closer to God than we could ever be, here on earth (Eph. 2:5) and their intercessory prayers on our behalf can be powerful.
Honoring Mary in our Homes
May is a great time to begin new ways of honoring Mary in our homes. Here are a few ideas.
"Hail, Mary!"
We owe Mary so much! Christ came into the world, fully human and fully divine, because Mary said "yes" to God's request. She is witness to all of Jesus' life, from his conception to his Resurrection. Our devotion to Mary will always and only lead us to a fuller understanding of Christ, our Savior. Enjoy the month of May, as we pray the words of the angel Gabriel, "Hail Mary, full of grace!"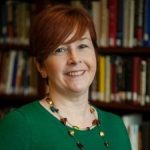 Elise Hilton is an author, blogger and speaker. Her role at Diocesan Publications is Editor & Writer with the Marketing Team. She has worked in parish faith formation and Catholic education for over 30 years. A passionate student of theology, Elise enjoys sharing her thoughts on parish communication, the role of social media in the Church, Franciscan spirituality and Catholic parenting. To enquire about booking her as a speaker, please contact her at ehilton@diocesan.com.