"Behold, the angel of the Lord appeared to him in a dream and said, "Joseph, son of David, do not be afraid to take Mary your wife into your home. For it is through the Holy Spirit that this child has been conceived in her. She will bear a son and you are to name him Jesus, because he will save his people from their sons." When Joseph awoke, he did as the angel of the lord had commanded him and took his wife into his home." – Mat. 1:17- 24
Today the Church celebrates the Solemnity  of Saint Joseph. Little is known about Joseph, and no words of his are recorded in Scripture. We do know that he was a man of love, faith and obedience. In his human frailty, he must also have experienced fear and doubt.
In fact, scripture tells us that when Joseph discovered that the Blessed Virgin Mary was pregnant he "decided to divorce her quietly" until an angel appeared to him. How was Joseph able to change his mind and be obedient to God's call, rather than believing his dream was perhaps the result of rotten goat's milk before bed?  Looking at Scripture again, Joseph is described as "a righteous man." Righteous, selfless and obedient, Joseph stepped out in faith, supporting Mary and God's plan for their family.
"Someone's faith stands on the other side of our obedience," a friend commented after Bible study years ago. His comment remains with me, bubbling to the surface when questions arise in my faith or trials last longer than it seems I can possibly bear.
Marriage is a great platform for faith and obedience. In this Sacrament, husband and wife vow to remain faithful "for better for worse, for richer, for poorer, in sickness and in health." The grace of this Sacrament compels spouses to stay true to these promises "until death do us part." So when tough times come – and they will  – I can stand firm, trusting in God's plan of salvation and knowing that my obedience is planting seeds not only for today, but for our family in generations yet to come, just as generations past impact us today.
God led Joseph and Mary down one unexpected path after another. They knew their son was special, yet instead of being prideful, Joseph and Mary showed great humility in following Jewish law. They took their son to the temple in Jerusalem, just as all Jewish parents at that time did with their firstborn sons.
At this presentation, Simeon's faith was rewarded specifically because of Joseph and Mary's obedience. "Every male that opens the womb shall be consecrated to the Lord." Simeon, being a righteous man, had trust in the Lord's promise that he should not see death before he had seen the Messiah of the Lord." Simeon's faith was standing on the other side of Joseph and Mary's obedience.
On this celebration of Saint Joseph and throughout the Lenten season, let us ask our Lord to strengthen our faith and help us to grow in love, which bears the fruit of obedience. Staying close to Jesus on our journey, we will hear the voice of the Holy Spirit telling us when to act and which way to go. Jesus, Mary, Joseph, pray for us.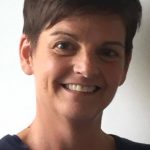 Amy Oatley is a wife, mother, and Secular Franciscan (OFS), passionate about social justice, advocating for the dignity of every human life. She encounters Christ through Prison and Jail Ministry in the Diocese of Grand Rapids and as a Sidewalk Advocate for Life. A journalist for the past thirty years, she is currently a freelance writer for FAITH Magazine and works at St. Thomas the Apostle Parish. Her home parish is Our Lady of Consolation in Rockford, Michigan.