Most people like to think that Heaven exists. Some of us try earnestly to get there. And everyone from Hollywood movie makers to philosophers to theologians have opinions about Heaven. But what do we really know about Heaven?
Anyone who's opinion is worth anything on the topic will tell you: "We don't know much about Heaven. It's sort of like asking us to describe God – any human effort falls so far short as to be comical." But that doesn't mean we know nothing about Heaven. Philosopher, author and Boston College professor Peter Kreeft have thankfully given us a Q & A that is helpful here.
Now, some of these questions are quite child-like, but the answers are not. (And remember, Christ told us to be child-like in faith, so this is a good place to start!)
Yes, but with a different kind of bigness. Now, space contains us, confines us, defines us. But we can transform space into place by humanizing it, spiritualizing it. A house becomes a home, a space becomes a place, by our living in it. Heaven will be both as intimate and as unconfining as our spirits want.

No one will think it too small or too large. In a sense, it will be in us rather than we in it—not in the sense that it will be subjective, but in the sense in which stage settings and props are in a play, or part of a play, rather than the play being in or part of the setting.
Hmmm, that still sounds very … much like a philosopher! Here is how I look at this, and maybe you'll find it helpful: Imagine that – as good as this life is and can be – Heaven will be like freedom to a prisoner. While we can make a life in a 6×9 cell, and we might even flourish, it is still prison. We are confined, limited. Heaven will be like freedom: no limits, but all good.
Of course, for many of us, this life is tough. We bear scars, both physically and emotionally. If we reach old age, our bodies show the wear and tear of life, with stooped shoulders and creaky joints.
What kind of bodies will we have in Heaven?

Gnostics of all kinds (Platonists, Buddhists, Hindus, Spiritualists, Manichaeans) say we will become pure spirits, angels, for they do not know the dogma of Creation. Pagans and Muslims say we will have earthly bodies and harems or happy hunting grounds.

Christians say we will have transformed bodies, but real, physical bodies, as Christ had after his resurrection. His body could be touched and could eat. Yet it could come and go as he pleased, with neither walls nor distance as an obstacle. It was the same body he had before he died, and it was recognized as such by his friends. Yet it was so different that at first they did not recognize him. I think our new resurrection body will be related to the body we have now in the same way that our current body is related to the body we had in our mothers' wombs. If a fetus saw a picture of itself at the age of twenty, it would at first not recognize itself, so unforeseen and surprisingly new would it be. Yet it is the same self, even the same body, now grown radically more mature.
When we die, we do NOT become angels. Angels are a completely different type of creature from humans, and while we have some things in common, we no more become angels in Heaven than we would become giraffes.
It is nice to know that we will still be ourselves in Heaven, but transformed from our earthly bodies. I don't know about you, but I'm looking forward to a transformed body!
Of course, the most important question regarding Heaven is one all of humanity needs to ponder:
How do you get to Heaven?

This is the most important question anyone can ask. The answer has already been given: It is free. "Let him who is thirsty come, let him who desires take the water of life without price" (Rev. 22:17). Faith is the act of taking.

It sounds crazy, too good to be true. But it makes perfect sense. For God is love. Love gives gifts, gives itself. God gives himself, his own life, membership in his family. We are made "partakers of the divine nature" (2 Peter 1:4). For God is pure love, and pure love has no admixture of stinginess in it.
Heaven, you see, is ours to lose. God has already granted us life in Him for all eternity. We humans can take it … or leave it. Far too many choose the latter. We refuse the gift. Perhaps, this side of Heaven, it is the poets and saints who will come closest to telling us what Heaven is. St. Robert Southwell, Jesuit priest and martyr, said,
The path to Heaven is narrow, rough and full of wearisome and trying ascents, nor can it be trodden without great toil; and therefore wrong is their way, gross their error, and assured their ruin who, after the testimony of so many thousands of saints, will not learn where to settle their footing.
St. Faustina's vision of Heaven seems to verify St. Robert Southwell's thoughts:
I saw two roads. One was broad, covered with sand and flowers, full of joy, music and all sorts of pleasures. People walked along it, dancing and enjoying themselves. They reached the end without realizing it. And at the end of the road there was a horrible precipice; that is, the abyss of hell. The souls fell blindly into it; as they walked, so they fell. And their number was so great that it was impossible to count them. And I saw the other road, or rather, a path, for it was narrow and strewn with thorns and rocks; and the people who walked along it had tears in their eyes, and all kinds of suffering befell them. Some fell down upon the rocks, but stood up immediately and went on. At the end of the road there was a magnificent garden filled with all sorts of happiness and all these souls entered there. At the very first instant they forgot all their sufferings.
St. Faustina went on to say that Heaven was filled with "unconceivable beauties."
Ultimately, we must trust God, who has promised us Heaven, where we will see God "face to face:
Then the angel showed me the river of life-giving water, sparkling like crystal, flowing from the throne of God and of the Lamb down the middle of its street.
On either side of the river grew the tree of life that produces fruit twelve times a year, once each month; the leaves of the trees serve as medicine for the nations.
Nothing accursed will be found there anymore.
The throne of God and of the Lamb will be in it, and his servants will worship him.
They will look upon his face, and his name will be on their foreheads.
Night will be no more, nor will they need light from lamp or sun, for the Lord God shall give them light, and they shall reign forever and ever.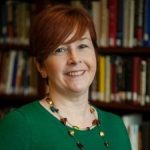 Elise Hilton is an author, blogger and speaker. Her role at Diocesan Publications is Editor & Writer with the Marketing Team. She has worked in parish faith formation and Catholic education for over 30 years. A passionate student of theology, Elise enjoys sharing her thoughts on parish communication, the role of social media in the Church, Franciscan spirituality and Catholic parenting. To enquire about booking her as a speaker, please contact her at ehilton@diocesan.com.