In today's Gospel reading, we see Jesus calling Andrew and Peter. He tells them, "Come with Me, and I will make you fishers of men." It's a beautiful scene, isn't it? Imagine Jesus, the Son of God, calling you and telling you to follow Him. Because both Peter and Andrew put down those nets, we have our first pope and a strong Apostle of Christ, two men who teach us through their words and actions how to follow Him.
Have you ever thought about the fact that, just as Jesus called Peter and Andrew, He calls you? We are incredibly blessed to know Christ. We are so blessed to be Catholic and to have the privilege of receiving Him in the Eucharist. He has called us for a purpose. It's our job to put down our own nets and follow Him.
What are those nets? They could be anything that gets in the way of doing God's work, following His laws, or adhering to His commandments. Our nets could be our stubborn personalities. They could be an addiction. They could be our anger or distaste for someone or something. They could be material things like money, expensive clothing, or fast cars. They could be TV shows or even news channels. Our nets are anything that come between us and God and that take too much of our time. These nets keep us from following Him. They steal our focus.
But God sees our distractions. He knows the worthlessness in the things that keep us from knowing Him fully. And so He tells us gently, "Put down your net." Do we hear Him tell us this? If so, are we strong enough to follow His command? It's not easy. Worldly possessions, habits, anger, or anything else that keeps us from strengthening our relationship with Christ greatly seduce us. They make us think they're a good when they're really an evil.
So as we reflect upon Peter and Andrew giving up everything for Christ, let us think about the things in our lives that keep us from doing God's will or from focusing on eternity with Him. What can we throw down? What can we get rid of? Why are we holding onto these things?
Let us pray that God opens our eyes so we can see the things that have weakened our relationship with Him and the things that have become barriers to an eternity in heaven. And then let us let go of them. We were put here on earth to know, love, and serve God. We can only do that if we put down our nets and follow Him.
---
En la lectura del Evangelio de hoy, vemos a Jesús llamando a Andrés y Pedro. Les dice: "Síganme y los haré pescadores de hombres". Es una escena hermosa, ¿no? Imagina a Jesús, el Hijo de Dios, llamándote y diciéndote que lo sigas. Debido a que tanto Pedro como Andrés arrojaron esas redes, tenemos nuestro primer Papa y un fuerte Apóstol de Cristo, dos hombres que nos enseñan a través de sus palabras y acciones cómo seguirlo.
¿Alguna vez has pensado en el hecho de que, así como Jesús llamó a Pedro y Andrés, te llama a ti? Somos increíblemente bendecidos de conocer a Cristo. Somos muy bendecidos de ser católicos y de tener el privilegio de recibirlo en la Eucaristía. Nos ha llamado con un propósito. Es nuestra responsabilidad dejar nuestras propias redes y seguirlo.
¿Qué son esas redes? Podrían ser cualquier cosa que se interfiere con hacer la obra de Dios, seguir Sus leyes o adherirse a Sus mandamientos. Nuestras redes podrían ser nuestras personalidades testarudas. Podrían ser una adicción. Podrían ser nuestra ira o disgusto por alguien o algo. Podrían ser cosas materiales como dinero, ropa costosa o autos veloces. Podrían ser programas de televisión o incluso canales de noticias. Nuestras redes son cualquier cosa que se interponga entre nosotros y Dios y que tome demasiado de nuestro tiempo. Estas redes nos impiden seguirlo. Nos roban el enfoque.
Pero Dios ve nuestras distracciones. Entiende la inutilidad de las cosas que nos impiden conocerlo completamente y nos dice suavemente: "Dejan sus redes". ¿Lo oímos decirnos esto? Si es así, ¿somos lo suficientemente fuertes para seguir Su mandato? No es fácil. Las posesiones mundanas, los hábitos, la ira o cualquier otra cosa que nos impida fortalecer nuestra relación con Cristo nos seducen mucho. Nos hacen pensar que son buenos cuando en realidad son malos.
Así que mientras reflexionamos sobre Pedro y Andrés dando todo por Cristo, pensemos en las cosas en nuestras vidas que nos impiden hacer la voluntad de Dios o enfocarnos en la eternidad con Él. ¿Qué podemos arrojar? ¿De qué podemos deshacernos? ¿Por qué nos aferramos a estas cosas?
Oremos para que Dios abra nuestros ojos para que podamos ver las cosas que han debilitado nuestra relación con Él y las cosas que se han convertido en barreras para una eternidad en el cielo. Y luego dejémoslos. Fuimos puestos aquí en la tierra para conocer, amar y servir a Dios. Solo podemos hacer eso si dejamos nuestras redes y lo seguimos.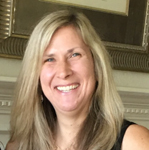 Susan Ciancio has a BA in psychology and a BA in sociology from the University of Notre Dame, with an MA in liberal studies from Indiana University. For the past 19 years, she has worked as a professional editor and writer, editing both fiction and nonfiction books, magazine articles, blogs, educational lessons, professional materials and website content. Thirteen of those years have been in the pro-life sector. Currently Susan freelances and writes weekly for HLI, edits for American Life League, and is the executive editor of Celebrate Life Magazine. She also serves as executive editor for the Culture of Life Studies Program—an educational nonprofit program for K-12 students. You can reach her at slochner0.wixsite.com/website.
Feature Image Credit: German García, cathopic.com/photo/7610-la-barca-en-la-orilla