I recently attended a Steubenville Adult Conference in which a speaker took the stage and gave an extremely vocal, Catholic rally call. He shouted and asked us to loudly repeat after him. At first, I felt like I was at some protestant church with the pastor yelling, people clapping, cheering, and a constant murmur of "Amen" and "Yes, God." I thought, this is not what Catholics do. This is not how we behave. We wait until someone says, "Peace be with you" to say anything. I felt so uncomfortable and completely out of my spiritual element.
Then I realized that this uncomfortability is exactly why the Catholic faith is dying. It's exactly why the youth are leaving and not bothering to look back. Many Catholics are so complacent with the world around us that they are not even trying to make a change. Many Catholics are so apathetic that they are borderline nihilistic. Many Catholics seem to be so "whatever" that their values and beliefs are worth next to nothing.
We cannot become complacent with the world around us, especially when we live in a nation that is constantly rallying and protesting their beliefs. Everyone is protesting something, be it pipelines, marijuana use, animal cruelty, pro-life issues, and so much more. Change is made when voices are heard and we will not be heard if we do not raise our voices. Instead, we as Catholics will slip into the unknown and we will be forgotten.
So I tell you now that it is okay to get loud. It is okay to go into the public arena armed with God's unending love to fight with. If we fight, we will win because we have God on our side. But we will not win if we never bother fighting. Besides, we were not created to be silent. We were created to love God and to boldly defend his creations.
Let us turn our responsorial hymn into a prayerful rally cry. Pray it loud.
"O God, you have rejected us and broken our defenses; you have been angry; rally us! You have rocked the country and split it open; repair the cracks in it, for it is tottering. You have made your people feel hardships; you have given us stupefying wine. Have not you, O God, rejected us, so that you go not forth, O God, with our armies? Give us aid against the foe, for worthless is the help of men." (PS 60:3, 4-5, 12-13)
If you are still afraid to be bold, pray Ephesians 6:18-20.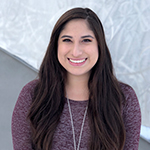 Veronica Alvarado is a born and raised Texan currently living in Michigan. Since graduating from Texas A&M University, Veronica has published various articles in the Catholic Diocese of Austin's official newspaper, the Catholic Spirit, and other local publications. She now works as the Content Specialist in Diocesan's Web Department.