Ash Wednesday at your parish
As we begin this holy season of Lent, we set aside those things that have led us away from the Lord, so we may return to him with humble and contrite hearts. A coordinated series of visuals can set the environment of your parish to encourage the hearts of your parishioners in their Lenten journey.
Promoting a Fish Fry Fundraiser
Lenten fish fries are a favorite community tradition and often one of the biggest parish fundraisers of the year. Make the most of your event with professional yet affordable eye-catching signage.
Hail Full of Grace
The grace, beauty, and humility of Our Lady is astouding in reflection, that she would be so honored by our Creator to bear Christ, the Eternal Word, within her. Let us rejoice in Mary's welcoming of God's will and her undoing of our first parents' act of disobedience.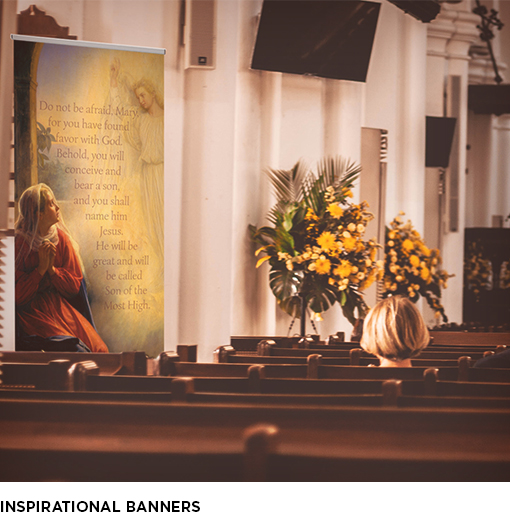 Selfless Saints of March
A man of sacrifice and responsibility, St. Joseph was always ready to put God's will and others' needs before his own.
St. Patrick, though forced into slavery at a young age, once free, offered his life to spreading the love of God across Ireland.
Both men, models of what God can do though lives given to Him.