Important Bulletin Information to Help Your Parish Through the Pandemic
Diocesan is working to implement strategies so your parishioners continue to have access to your digital bulletin.
Rejoice in His life this Easter
We struggle, we suffer, we grieve, we mourn, we fall, we give it our all, and we feel spent. Then we know we can't go on and cry out.
Then from somewhere within the depths of time and existence itself comes a glimmer of Hope. This is His story. Our failure set on a new path of promise, victory, redemption, and new life.
Following His sorrow through Lent
We easily grieve at the thought of deprivation during Lent, but the way of the Cross is the way of sorrow and suffering, and the way to life. This Lent is a good time to reflect on our lives in the light of Jesus' life. He saw the value of eternal life over present comfort. Share the mystery of His sorrow with others this Lent.
Promoting a Fish Fry Fundraiser
Lenten fish fries are a favorite community tradition and often one of the biggest parish fundraisers of the year. Make the most of your event with professional yet affordable eye-catching signage.
Hail Full of Grace
The grace, beauty, and humility of Our Lady is astounding in reflection, that she would be so honored by our Creator to bear Christ, the Eternal Word, within her. Let us rejoice in Mary's welcoming of God's will and her undoing of our first parents' act of disobedience.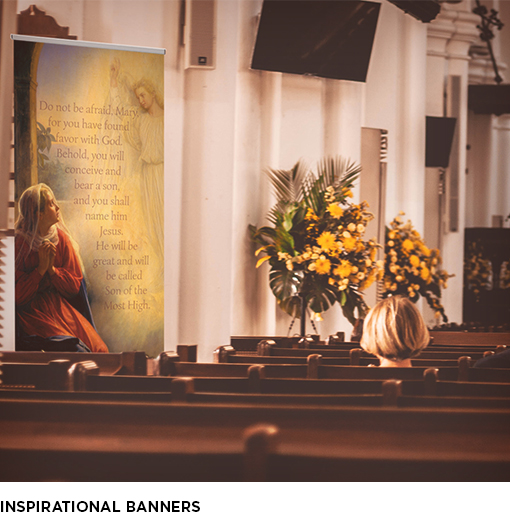 Selfless Saints of March
A man of sacrifice and responsibility, St. Joseph was always ready to put God's will and others' needs before his own.
St. Patrick, though forced into slavery at a young age, once free, offered his life to spreading the love of God across Ireland.
Both men, models of what God can do though lives given to Him.