I am who am! These simple yet profound words echoed through a cave thousands of years ago and have kept even the greatest theologians questioning.
Thomas Aquinas himself, one of the most influential doctors of the Church, wrote extensively on this subject and only began to scratch the surface of its meaning. What do these profound words spoken from God to Moses mean? Well, what we do know is that they mean that God is existence itself. He is the uncreated creator, that which makes things be, existence itself. Explaining God in relation to other created things does not do justice to Him, and yet this is the way we know to explain.
The Catholic Church calls this a mystery. Not a mystery in the sense that it is hidden or that we can't know anything, for God has revealed certain things, but a mystery in the sense that it is not fully knowable to us until heaven.
What is fully knowable to us though is that every breath, every life, every gift, everything, even our very existence is due to God. He holds us into being. This should give us a little perspective during this Lenten season. I think we often approach Lent in a negative sense, in the sense that we should give something up or sacrifice something.
While it truly is a time for these things, it is also a time to realize that because we were made and are held into existence by a complete gift, that the only proper response to that gift is to give. We do not get to heaven in a box. Our beautiful faith teaches us that we gain salvation through the relationship with Christ and His sacrifice on the cross. And this salvific relationship is meant to be shared with the world. It is not enough to receive love and have it turn inward, love must turn outward and multiply.
This Lent, I encourage you to sit down for a few minutes and reflect on the words, I am who am. Reflect on what that means in your life and the gifts you have been given. Now, reflect on how you can turn and give. It might be as simple as telling a friend they are loved, or it might be as difficult as standing up for your faith when it is uncomfortable. Either way, don't let this just be more words you read on a page. Let's all think of one concrete way we can be a gift this week. Nothing is scarier to Satan than Christians uniting through relationship with Christ, and then sharing that relationship with the world. From all of us here at Diocesan, God Bless!
Image Credit: Kira auf der Heide, https://unsplash.com/photos/IPx7J1n_xUc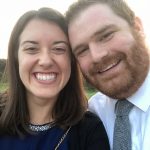 Tommy Shultz is a Business Development Representative for Diocesan. In this role he is committed to bringing the best software to dioceses and parishes while helping them evangelize on the digital continent. Tommy has worked in various diocese and parish roles since his graduation from Franciscan University with a Theology degree. He hopes to use his skills in evangelization, marketing, and communications, to serve the Church and bring the Good News to all. His favorite quote comes from St. John Paul II, who said, "A person is an entity of a sort to which the only proper and adequate way to relate is love."