In today's Gospel, we hear about one of the first documented and most intense cases of peer pressure. Because of a fear of the crowd, Herod murders John the Baptist. Now it may seem like this is an extreme example and we might think, nobody would ever do that in our time, or how could it have gone that far?
But let's take a moment and bring this story into our particular experiences. Sometimes it can help when we read the bible to put ourselves into the situation. Usually, this works best if we put ourselves as one of the people Jesus is loving or teaching, or it's at least easier that way. But I am going to challenge us to put ourselves in the point of view of Herod.
When was the last time we let our beliefs crumble because of a certain fear or embarrassment? Think about this last time and ask the question, is that something you ever would have done years ago? What I have noticed in my own life is if I start to slowly give in to peer pressure or remain silent when I should speak up, it starts slow and eventually I lose sight of who I was years ago and the things I promised I would never budge on.
Maybe we wouldn't murder someone out of fear, but what have we done recently because it was just easier to give in than to stand up for the truth? This is an important and difficult question. As we ask it, let's keep Jesus close. He will help us remember what the truth is and how we can continue to live from it to the best of our ability with his grace and mercy. God Bless and happy thinking and praying.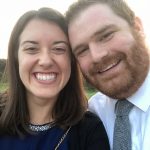 Tommy Shultz is Director of Evangelization for the North Allegan Catholic Collaborative and the founder of Rodzinka Ministries. In these roles, he is committed to bringing all those he meets into a deeper relationship with Christ. Tommy has a heart and a flair for inspiring people to live their faith every day. He has worked in various youth ministry, adult ministry, and diocesan roles. He has been a featured speaker at retreats and events across the country. His mission and drive have been especially inspired by St. John Paul II's teachings. Tommy is blessed to be able to learn from the numerous parishes he visits and pass that experience on in his presentations. With a degree in Theology from Franciscan University, Tommy hopes to use his knowledge to help all people understand the beauty of The Faith.