A voice was heard in Ramah,
sobbing and loud lamentation;
Rachel weeping for her children,
and she would not be consoled,
since they were no more.
One could have mixed feelings on today's Feast of the Holy Innocents, the children slaughtered by Herod in an attempt to eliminate the Christ child, whom Herod believed was a threat to his throne. Herod did this out of fear and greed. He was so obsessed with the possibility that anyone might overthrow him as king of the Jews, that even a child had to be killed.
Why so much bloodshed? Not just then, perpetrated by Herod, but even today in the many children killed by famine, by dictators, by poverty and neglect, by abortion, by terrorists and gun-wielding perpetrators of our mass school shootings. These children are lost because of fear, greed, mental illness, indifference, selfishness, or pure evil.
We are just three days past the celebration of the Incarnation of our Lord. Only three days into the joyous season of Christmas when we honor this Feast of the first martyrs for Christ. In the midst of our lights, glitter, presents and family gatherings, music and dancing, scripture reminds us of such sorrow. I find the words of today's Gospel, recounting a passage from Jeremiah, some of the most heart-wrenching words: "…and she would not be consoled, since they were no more." It can be said of any of the situations described above.
And how do we make sense of it?
We need to remember who is in charge. God is in charge. We cannot make sense of any of the suffering of this world if we do not have faith. Faith that God will, in the end, make it all right. It may not seem like much consolation, but it is a great consolation. We don't have to make things OK in our world or anyone else's. We need only to live righteously, and to turn to Jesus, to intercede for us to heal our hurts and give us the strength of faith to remain strong in the truth that God is in charge, and that, in the end, he will right every wrong ever committed. That is the essence of his mercy, as well as his justice.
In this season of beauty and charm, joyous hope of peace and love, unite any hurt and pain you carry with you today; unite it with the sorrow of the loss of these little ones and take it to the Lord. Through his Incarnation, death, and Resurrection, he has given us the path to peace. In Christ, all will be well!
God Bless.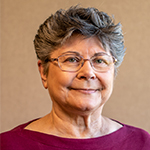 Jeanne Penoyar, an Accounts Manager here at Diocesan, is currently a Lector at St. Anthony of Padua parish in Grand Rapids, MI. While at St. Thomas the Apostle, Grand Rapids, Jeanne was a Lector, Cantor, Coordinator of Special Liturgies, Coordinator of lectors and, at one time, chair of the Liturgy Commission. In a past life, secretary/bookkeeper at the Basilica of St. Adalbert where she ran the RCIA program for the Steepletown parishes. And she loves to write! When relaxing, she likes reading and word puzzles. You can contact her at jpenoyar@diocesan.com.