"For the life was made visible; we have seen it and testify to it…we proclaim now to you, so that you too may have fellowship with us; for our fellowship is with the Father and with his Son, Jesus Christ. We are writing this so that our joy may be complete." [Jn 1: 2-4]
Today's readings call to us, charging us to rejoice and proclaim the glory of God the Father and God the Son! St. John the Apostle could not have a better feast day to recognize his dedication, faith and calling to the Way. John proclaimed to all the world that Jesus is alive and among us.
I am the gate. Whoever enters through me will be saved, and will come in and go out and find pasture…I came so that they might have life and have it more abundantly. I am the good shepherd. A good shepherd lays down his life for the sheep. Jn 10:9-11
The gospel today takes us to the scene at Jesus' tomb. It is the profound reminder of the good shepherd laying his life down for each and every one of us. Jesus came into the world as the ultimate gift and sacrifice; all manifested through the unconditional love of God for humanity.
On this third day of Christmas, I feel like singing Hallelujah from the rooftops. My kids advise me otherwise. Instead, listen to the Royal Choral Society or a gospel version by Quincy Jones sing Hallelujah. May your celebration of Christmas continue to be blessed.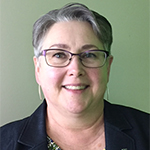 Beth Price is a Secular Franciscan (OFS) and spiritual director who has worked in several parish ministry roles during the last 20 years. She is a proud mother of 3 adult children. Beth currently works at Diocesan. You can contact her at bprice@diocesan.com.