"Then another sign appeared in the sky; it was a huge red dragon, with seven heads and ten horns, and on its head were seven diadems. Its tail swept away a third of the stars of the sky."
Lately, I have just felt off, out of sync. Like if life is a play, everyone else already knows their lines and I have yet to see the script. It seems I stumble through my days trying not to get in anyone's way and crawl into bed at night with little strength left or the will to even say a prayer. I fall asleep before my handsome husband makes his way to bed; only to wake the next morning unrested and not at all feeling prepared to do it all over again.
And it seems like it is more than just me. When I look around, it feels like much of the world is out of whack too. Cardinals, the princes of the Church, and bishops are being exposed for misusing their authority and severely damaging both beautiful individuals and causing scandals so vast that it can't be surprising if many turn away from God and His Church. In a dark world which is demanding that tolerance be valued over truth, they are providing grist for the mill.
"…the Almighty has done great things for me and holy is Name. He has mercy on those who fear him in every generation. He has shown the strength of his arm, and has scattered the proud in their conceit."
Oh, how I need this today! The Solemnity of the Assumption of Mary into heaven is our day to celebrate that we have a spiritual mother who has not only gone before us on earth, she is already in heaven and interceding for us. When life gets rough and we need our Mom, we know right where to find her!
Today's Gospel is the most we ever hear from Mary and God's mercy gets two mentions. Even when the very stars fall from the sky (or the princes from their thrones) God's mercy is there. The work of our life lies in how we respond to that mercy. If we want to live a truly holy life, not in a floating-angel-singing-all-day-type of way, but if we want to be holy in a crazy-out-of-whack-world-where-it-is-hard-to-find-and-keep-our-footing way, there is no easier, surer way to do that than to go to our Mother and imitate her virtues. (Just ask St Louis de Montfort!)
Virtues are more than just good habits, virtues are moral goods and something which is a moral good is not only good for us personally, but is a good for all of society. Virtues shine as lights in the world and are truth visible in the action of our behavior. As others have done since the early days of Christianity, in Mary's virtues we can refocus and draw nearer to Jesus, even when the world doesn't feel right. (We know it isn't about our feelings anyway, those fickle bedfellows who come and go as they please.) It is about obeying the Father, following the Son, and cooperating with the Holy Spirit and if we are going to figure out how to do all that, there is no one better suited to teach us than the most faithful daughter of the Father, the most holy and humble Mother of the Son, and the most pure spouse of the Holy Spirit.
I always tell my sister, if you see me getting out of whack, or having a hard a time staying focused, just ask me when was the last time I prayed the rosary. While I always intend to pray the rosary daily, the fruit, or sometimes more obviously, the lack of fruit in my life is a dead giveaway of just how much time I am spending with my heavenly Mom.
So in this current time of life when the darkness of discord and distrust seems to be the pervasive way of the world, I can choose to respond to God's mercy by committing myself to the rosary anew. I can offer up study of Mary's virtues. I can prayerfully meditate on how those truths look in action and through God's grace, I can carry with me, the light of Mary, my Mother which is her Son, Jesus.
If you see me soon, please keep me accountable and ask me when I last prayed the rosary.
Hail Mary, most pure
Hail Mary, most prudent
Hail Mary, most humble
Hail Mary, most faithful
Hail Mary, most devout
Hail Mary, most obedient
Hail Mary, most poor
Hail Mary, most patient
Hail Mary, most merciful
Hail Mary, most sorrowful
Mary, Mother of us all, pray for us, your children!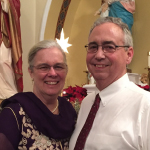 While wearing many hats, Sheryl O'Connor is the wife and study buddy of Thomas O'Connor. Not having received the gift of having their own children, their home is filled with 2 large dogs and their hearts with the teens and youth with whom they work in their parish collaborative. Sheryl is the Director of Strong Families Programs for Holy Family Healthcare which means her job is doing whatever needs to be done to help parents build strong Catholic families. Inspired by the works of mercy, Holy Family Healthcare is a primary healthcare practice in West Michigan which seeks to honor the dignity of every individual as we would Christ. Find out more at https://www.holyfamilyhealthcare.org/