Accountability: Adjective
(Of a person, organization, or institution) required or expected to justify actions or decisions; responsible.

Explicable; understandable
Personally, I hate being called out. When those who are closest to me decide to tell me their thoughts or feelings on certain mistakes I've made, it's uncomfortable. I am blessed to have many dear friends who know me well and who are close enough to be blunt with me. It is helpful for me to be held accountable for things I've done or did not do.
At times, I have been the one calling others out as well. In those moments I have always tried to do so with gentleness and love. Love is the main reason we call one another out! We are moved by love for the other person that we sometimes need to stop and say "Hey, that wasn't a good idea" or "Do you really think this is the best decision for you?"
In high school I went to a youth group retreat and our group t-shirt read,
"Friends Don't Let Friends Go To Hell".
Yup, it said the word hell. And as a 16 year old I thought it was pretty cool to wear at a retreat. That quote became engraved into my heart throughout my life as I realized how honest it was. All the times I have been called out by my friends or family, and all the times I have called them out is due to love. To genuinely wanting Heaven for that person and wanting what is best for them.
I'll be honest. In today's readings, I feel very called out by St. Paul's letter to the Ephesians. St. Paul states to us that we should watch carefully how we live. He's reminding us to not live in foolishness and ignorance. He reminds us to not get drunk on wine and lies of debauchery, but to try to understand the will of the Lord. He reminds us to fill our hearts and our minds with the Spirit of God in a prayer of thanksgiving.
We are being held accountable to try. He tells us that we should be giving our absolute best to God. We should always strive to understand God's will for each of our lives, which cannot be done without prayer. How often I need to be reminded, called out, and held accountable for something as simple as setting aside genuine time with Christ and putting in the real effort to try.
In the Gospel Reading, we hear the tender voice of Jesus. I swear every time Jesus calls me out in Scripture, it is done with such love and tenderness. He shares Good News with us, that He offers us the bread of life! He reminds us that we remain in Him and He remains in us when we receive the Eucharist. He shares that whoever receives this bread will live forever!
Looking at St. Paul's words to us and Christ's words in the Gospel, I feel a pull to the Eucharist. I feel called out to more time of prayer in front of the Blessed Sacrament.
I don't know where your heart is today. I don't know how much effort you've put into trying in your relationship with Christ. I don't know if you go to daily mass, have a weekly holy hour, or what your prayer life is like. I don't know if you feel called out by these Scripture readings the way that I do. But I do know that each of us is called to give 100% effort in our choice to try today. That each of us should set more time aside for Christ today than we did yesterday. I hope we watch more carefully our words and our actions this day and remain in His Sacred Heart. Choosing to try today is making the choice of our daily conversion. Choosing Christ in this moment, in this day is a victory.
Let's choose to give Him our hearts today.. Let's choose Him and remain with Him today.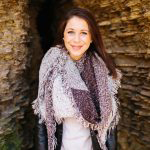 Briana is a Catholic Doctrine teacher at Our Lady of Mt. Carmel school in Cleveland, OH. She received her Bachelor of Arts in Theology and Catechetics from the Franciscan University of Steubenville, OH and is excited to use these skills to bring her students closer to Christ and His Church. "My soul has been refined and I can raise my head like a flower after a storm." -St. Therese