Have you ever had a conversation with someone who was unable to see what seemed so obvious to you? This can be a frustrating experience. One way to open their eyes is to offer them a chance to accept an idea and THEN apply it to the current situation; you might hold out a different example to help them see what you see. This is what Jesus does in his parables.
In today's Gospel, the disciples ask Jesus about this. He has just spoken to the crowd about the seed and the sower, and the disciples ask him why he speaks to them in parables. Jesus answers that many cannot see or hear the full truth because of their stubborn hearts. He further reveals that when we let go of our stubbornness and are freely open to the truth, we receive more and more, so that we are rich in grace and truth!
The thing to keep in mind is that Jesus never runs out of ways to communicate truth to us. The infinite creativity of God and the unfathomable mercy of God mean that we are given chance after chance, opportunity after opportunity, to begin anew to open ourselves fully so that we can see and hear what the Lord is communicating to us. He keeps teaching, keeps saving, keeps forgiving, keeps loving. Our blindness and deafness are no obstacle for Him; only our willfulness and stubborn selfishness can keep His light from shining for us, in us, through us.
We can't out-run his merciful love. We can't out-sin His loving mercy.
Let's begin anew right now. Let's ask the Lord to show us where we have neglected to open ourselves to Him, and then ask for the grace to let go of all that keeps us in darkness. And then, let's boldly ask the Lord to shine the light of his truth and grace in every darkened corner so that we are at last his true disciples.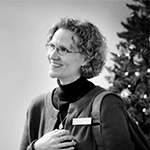 Kathryn is married to Robert, mother of seven, grandmother to two, and a lay Carmelite. She has worked as a teacher, headmistress, catechist, Pastoral Associate, and DRE, and also as a writer and voice talent for Holy Family Radio. Currently, she serves the Church as a writer and presenter, and by collaborating with the diocesan Office of Faith Formation, individual parishes, and Catholic ministries to lead others to encounter Christ and engage their faith. Learn more at www.kathryntherese.com or on Facebook @summapax.