Have you ever prayed the Litany of Humility? It is probably one of the most radical pleas I've ever encountered. Its power lies in how deeply it embodies Jesus' desire for us to serve. We must strive for this: to be not the greatest, but the least. For everything will be overturned when we face eternal life. Those who are last will be first. Think of Christ's parents on Earth. Joseph, who has not a single spoken phrase recorded in the Bible, and our Blessed Mother, who was also barely mentioned, but within her brief words exclaims, "Behold I am the handmaid of the Lord. Let it be done unto me according to your word". We must recall our littleness in comparison to Christ, without whom we can achieve nothing.
It is so important to also beware of preaching but not practicing. Is the way we appear to others more important than our image in the sight of God? Do we want to be recognized and praised by people, or by God? In actuality, we can't have both. The first truth the Beatitudes declare is "Blessed are the poor in spirit". Let us strive for true piety through fasting, almsgiving, and prayer, in private, since God sees us in secret.
---
¿Alguna vez has rezado la Letanía de la Humildad? Puede ser una de las súplicas más radicales que he encontrado. Es poderoso porque expresa profundamente que Jesús desea que sirvamos. Debemos esforzarnos por esto: no ser los más grandes, sino los más pequeños. Porque todo se va a derrumbar cuando enfrentemos la vida eterna. Los últimos serán los primeros. Piensa en los padres de Cristo en la Tierra. José, que no tiene ni una sola frase hablada registrada en la Biblia, y nuestra Santísima Madre, que también fue apenas mencionada, pero dentro de sus breves palabras exclama: "He aquí, soy la esclava del Señor. Hágase en mí según tu palabra". Debemos recordar nuestra pequeñez en comparación con Cristo, sin el cual nada podemos lograr.
Es muy importante cuidarse también de predicar sin practicar lo que predicamos. ¿La forma que lucimos ante los demás es más importante que nuestra imagen ante los ojos de Dios? ¿Queremos ser reconocidos y alabados por la gente o por Dios? En realidad, no podemos tener ambos. La primera verdad que declaran las Bienaventuranzas es "Bienaventurados los pobres de espíritu". Esforcémonos por la verdadera piedad a través del ayuno, la limosna y la oración, en privado, ya que Dios nos ve en lo secreto.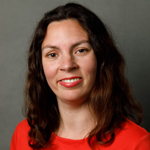 Dr. Alexis Dallara-Marsh is a board-certified neurologist who practices in Bergen County, NJ. She is a wife to her best friend, Akeem, and a mother of two little ones on Earth and two others in heaven above.
Feature Image Credit: Naassom Azevedo, unsplash.com/photos/-2k57MGq4AI