The parable of the ten pounds [aka parable of the ten gold coins] could be the story of my life, in more than just my continual battle of the bulge. The spiritual Kingdom of God dwells in our hearts and our response to that grace determines how deep and vast the Kingdom's expanse is within our lives. Grace also directs how each one uses the specific gifts and talents bestowed upon us by the Lord. Our unique gifts, used according to God's plan and purpose at their fullest potential, will bless our world and work toward furthering the Kingdom in our lives and the lives of others.
Each of us will be asked to make an account of our lives, of all the blessings bestowed upon us, at the time of our judgment. What will you have to show God? What have you done with the ten coins, the special gifts and talents entrusted to you? In the parable, the nobleman instructs the servants to "engage in trade" to utilize what He has given them. The first two came back with marginal gains but showed they moved in faith and trust to be the best stewards of what had been imparted to them. The nobleman's response clearly expresses His pleasure, "Well done, good servant! You have been faithful in this very small matter," He then confers more blessings on them.
The third, afraid of the Master, buries the coins and gives back exactly what he received, a true insult and an affront to the generosity of the King. By his own words, we learn, the servant condemns himself. How often do my words betray what is truly in my heart? How often do I offend God by misusing or failing to use the glorious gifts and talents placed explicitly within my heart when He formed me in my mother's womb?
One beautiful aspect of parables is how they allow Jesus to speak to us through the Gospels, although written over 2000 years ago. Like the disciples, we are directly taught and guided by His words and wisdom, able to reflect on its meaning in our lives. So, what will you go forth and do with the treasure entrusted to you by the Lord?
---
La parábola de las diez monedas de oro podría ser la historia de mi vida. El Reino espiritual de Dios habita en nuestros corazones y nuestra respuesta a esa gracia determina cuán profunda y vasta es la expansión del Reino dentro de nuestras vidas. La gracia también dirige cómo cada uno utiliza los dones y talentos específicos que el Señor nos ha otorgado. Nuestros dones únicos, usados de acuerdo con el plan y el propósito de Dios en su máximo potencial, bendecirán a nuestro mundo y trabajarán para promover el Reino en nuestras vidas y en las vidas de los demás.
A cada uno de nosotros se nos pedirá que hagamos un recuento de nuestras vidas, de todas las bendiciones que se nos otorgaron, en el momento de nuestro juicio. ¿Qué tendrás que mostrarle a Dios? ¿Qué has hecho con las diez monedas, los dones y talentos especiales que te han sido confiados? En la parábola, el noble instruye a los sirvientes, "inviertan este dinero" para utilizar lo que les ha dado. Los dos primeros regresaron con ganancias marginales, pero demostraron que se movilizaron con fe y confianza para ser los mejores administradores de lo que se les había impartido. La respuesta del noble expresa claramente Su placer: "Muy bien. Eres un buen empleado. Puesto que has sido fiel en una cosa pequeña…", luego le confiere más bendiciones.
El tercero, temeroso del Maestro, entierra las monedas y devuelve exactamente lo que recibió, un verdadero insulto y una afrenta a la generosidad del Rey. Por sus propias palabras, aprendemos, el siervo se condena a sí mismo. ¿Con qué frecuencia mis palabras traicionan lo que verdaderamente tengo en mi corazón? ¿Con qué frecuencia ofendo a Dios al usar mal o dejar de usar los gloriosos dones y talentos colocados explícitamente en mi corazón cuando me formó en el vientre de mi madre?
Un aspecto hermoso de las parábolas es cómo permiten que Jesús nos hable a través de los Evangelios, aunque escritos hace más de 2000 años. Como los discípulos, somos directamente enseñados y guiados por sus palabras y sabiduría, capaces de reflexionar sobre su significado en nuestras vidas. Entonces, ¿qué saldrás a hacer con el tesoro que el Señor te ha confiado?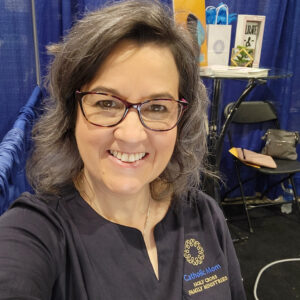 Allison Gingras ( www.ReconciledToYou.com ) — Shares her love of the Catholic Faith with stories, laughter, and honesty as experienced in the ordinary of life! Her writing includes Encountering Signs of Faith (Ave Maria Press) and the Stay Connected Journals for Women (OSV). Allison is a Catholic Digital Media Specialist for Family Rosary, Catholic Mom, and the Fall River Diocese. She hosts A Seeking Heart podcast and is co-host of the Catholic Momcast podcast.
Feature Image Credit: Anncapictures, pixabay.com/photos/pocket-watch-time-sand-clock-1637393/
The views and opinions expressed in the Inspiration Daily blog are solely those of the original authors and contributors. These views and opinions do not necessarily represent those of Diocesan, the Diocesan staff, or other contributors to this blog.