"'Come, everything is now ready.' But one by one, they all began to excuse themselves" (Luke 14:18). Immediately, when called to communion with the King, the invitees start making excuses. They cling to their worldly attachments, putting their to-do lists and material desires before the relationship with the King. Sound familiar?
Were you at Mass last weekend? Did you put aside all worldly distractions to be present at the most lavish banquet the King has to offer? Recall Jesus' words in today's Gospel, "Blessed is the one who will dine in the Kingdom of God."
We are foolish to decline an invitation to eat the Bread of the Kingdom of God, the Bread of Life, a foretaste of the life of the world to come! It is the most precious invitation God, our King, has to offer each of us. Sadly, the called are still making excuses. So many reasons people find not to attend Sunday Mass: sports, work, vacation, it's the only time I have to run my errands, etc.
The servants brought in "the poor and the crippled, the blind and the lame…and still there is room." So they are ordered to "Go out to the highways and hedgerows and make people come in that my home may be filled." Herein lies our second responsibility to answer the King's invitation. Not only are we to partake of the Great Feast (every week), but we should also share this unfathomable gift with others.
What is our motivation? Our missionary hearts are set in us by God, "It is from God's love for all men that the Church in every age receives both the obligation and the vigor of her missionary dynamism, for the love of Christ urges us on" (CCC, 851).
We learn two simple lessons from this parable: to accept God's gracious, open invitation, and feel free to bring a friend (or ten).
---
'[Y]a todo estaba listo. Pero todos, sin excepción, comenzaron a disculparse. " (Lucas 14,18). Inmediatamente, cuando son llamados a la comunión con el Rey, los invitados comienzan a poner excusas. Se aferran a su apegos mundanos, poniendo sus listas de tareas pendientes y deseos materiales antes que su relación con el Rey. ¿Suena familiar?
¿Fuiste a misa el fin de semana pasado? ¿Dejaste a un lado todas las distracciones mundanas para estar presente en el banquete más lujoso que el Rey tiene para ofrecer? Recuerde las palabras de Jesús en el Evangelio de hoy: "Dichoso aquel que participe en el banquete del Reino de Dios".
¡Nosotros somos insensatos al declinar una invitación a comer el Pan del Reino de Dios, el Pan de Vida, un anticipo de la vida eterna! Es la invitación más preciosa que Dios, nuestro Rey, tiene para ofrecernos a cada uno de nosotros. Lamentablemente, los llamados siguen poniendo excusas. La gente encuentra tantas razones para no asistir a la misa dominical: el deporte, el trabajo, las vacaciones, es el único momento que tengo para hacer mis mandados, etc.
Los sirvientes trajeron "a los pobres y a los lisiados, a los ciegos y a los cojos… y todavía hay lugar". Así que se les ordena: "Sal a los caminos y a las veredas; insísteles a todos para que vengan y se llene mi casa." Aquí radica nuestra segunda responsabilidad de responder a la invitación del Rey. No solo debemos participar de la Gran Fiesta (cada semana), sino que también debemos compartir este regalo insondable con los demás.
¿Cuál es nuestra motivación? Nuestro corazón misionero está puesto en nosotros por Dios: "Del amor de Dios por todos los hombres la Iglesia ha sacado en todo tiempo la obligación y la fuerza de su impulso misionero: "porque el amor de Cristo nos apremia." (CIC, 851).
Aprendemos dos lecciones sencillas de esta parábola: aceptar la invitación de Dios que está abierta y llena de gracia, y sentirnos libres de traer a un amigo (o diez).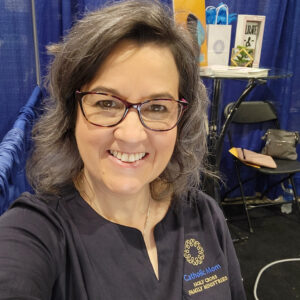 Allison Gingras ( www.ReconciledToYou.com ) — Shares her love of the Catholic Faith with stories, laughter, and honesty as experienced in the ordinary of life! Her writing includes Encountering Signs of Faith (Ave Maria Press) and the Stay Connected Journals for Women (OSV). Allison is a Catholic Digital Media Specialist for Family Rosary, Catholic Mom, and the Fall River Diocese. She hosts A Seeking Heart podcast and is co-host of the Catholic Momcast podcast.
Feature Image Credit: StockSnap, pixabay.com/photos/events-venue-banquet-hall-wedding-2609526
The views and opinions expressed in the Inspiration Daily blog are solely those of the original authors and contributors. These views and opinions do not necessarily represent those of Diocesan, the Diocesan staff, or other contributors to this blog.