We are reminded today to give alms, pray, and fast. We remember that we don't do these things for the world, but rather we do them for God and our Father who sees in secret will reward us.
During Lent, we are invited into the solitude, the place in our hearts where God dwells and only we and he have access to. St. John Paul II referred to it as original solitude. We are alone in the visible world. We commune with others and often our focus remains fixed on these others. We get concerned about our relationship with them and what they think. We desire approval and acceptance because without them we are alone. We think.
Original solitude, God seeing in secret, reminds us that we are never truly alone if we open our hearts to God. We can rest in his love at all times. God is inviting us deeper into this solitude this Lent. He asks us to give, to pray, and to fast to help others, yes, but also because those actions help purify us and bring us closer to him. And as we grow closer to him, we become more aware of our original solitude and rejoice in it because it is there that we are known, seen, and loved; there in the secret of our own and our Father's heart. We learn to turn from our desire to share all with everyone else and instead reserve some things for just him.
Every Lent is a challenge and an invitation to step closer to the One who made us and is always calling us deeper. Choose to answer this invitation. Choose to give a little more, pray a little more, fast a little more, all the while keeping it between you and your Father in heaven. Come up with an answer to the inevitable question "What are you doing/giving up for Lent?" Be mysterious. Be elusive about it. Let it be an offering from you to God. Offer him your desire to share. Accept the challenge. Rsvp to the invitation. Let God work in your heart by meeting him there in that secret place where it's just you and him. It's going to be an amazing forty days.
---
Hoy se nos recuerda dar limosna, orar y ayunar. Nos acordamos que no hacemos estas cosas por el mundo, sino que las hacemos para Dios y nuestro Padre que ve en lo secreto nos recompensará.
Durante la Cuaresma, somos invitados a la soledad, el lugar en nuestros corazones donde mora Dios y solo nosotros y él tenemos acceso. San Juan Pablo II se refirió a ella como la soledad original. Estamos solos en el mundo visible. Estamos en comunión con los demás y, a menudo, nuestro enfoque se fija en ellos. Nos preocupamos por nuestra relación con ellos y lo que piensan. Queremos la aprobación y aceptación porque sin ellas estamos solos. Eso es lo que pensamos.
La soledad original, Dios viendo en lo secreto, nos recuerda que nunca estamos verdaderamente solos si abrimos nuestro corazón a Él. Podemos descansar en su amor en todo momento. Dios nos está invitando a profundizar en este tipo de soledad esta Cuaresma. Nos pide dar, orar y ayunar para ayudar a los demás, sí, pero también porque esas acciones ayudan a purificarnos y acercarnos a él. Y a medida que nos acerquemos a él, tomamos más conciencia de nuestra soledad original y nos regocijamos en ella porque es allí donde somos conocidos, vistos y amados; allí en el secreto de nuestro corazón y él de nuestro Padre. Aprendemos a alejarnos de nuestro deseo de compartir todo con todos los demás y, en cambio, reservamos algunas cosas solo para él.
Cada Cuaresma es un desafío y una invitación a acercarnos a Aquel que nos hizo y que siempre nos llama a profundizar más. Elige responder a esta invitación. Elige dar un poco más, orar un poco más, ayunar un poco más, guardándolo todo el tiempo entre tú y tu Padre en el cielo. Piensa en una respuesta a la pregunta inevitable "¿Qué estás haciendo/renunciando para la Cuaresma?" Sé misterioso. Sea elusivo al respecto. Que sea una ofrenda tuya a Dios. Ofrécele tu deseo de compartir. Acepta el desafío. Responde a la invitación. Deja que Dios obre en tu corazón al encontrarlo allí en ese lugar secreto donde solo estás tú y él. Van a ser cuarenta días increíbles.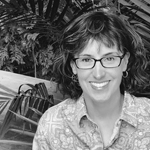 Merridith Frediani loves words and is delighted by good sentences. She also loves Lake Michigan, dahlias, the first sip of hot coffee in the morning, millennials, and playing Sheepshead with her husband and three kids. She writes for Catholic Mom, Diocesan.com, and her local Catholic Herald. Her first book Draw Close to Jesus: A Woman's Guide to Adoration is available at Our Sunday Visitor and Amazon. You can learn more at merridithfrediani.com.
Feature Image Credit: Ahna Ziegler, unsplash.com/photos/m7U6Zk-wU4M