We have 6 days until Lent. If you're like me, you've only given a fleeting thought about what to give up: "Hmmm, maybe chocolate this year. Maybe tv. We watch too much tv…." And that is where your Lenten planning begins … and ends. Let's get real; if you don't have your Lenten plan in place by this weekend, you probably won't have one at all. Let's make this the best Lent ever!
Here are some concrete suggestions. Choose one or two. Or maybe this list will spark your imagination.
Ask God. Find some quiet time in the next day or two; a half an hour would be ideal. In front of the Blessed Sacrament would be perfect! In that quiet time, tell God you want your Lenten journey to please Him, to be for Him. Ask him what He'd like you to do. Then: be quiet. Very still. You'll get your answer.
Give up something in order to give something. We are all familiar with "giving up" something for Lent. We give up chocolate, steadfastly making our way around the niece's birthday cake, dinner at Grandma's ("Eat! You look thin!") until it's Easter Sunday and you can happily munch the ears off all the chocolate bunnies. Noble, but it doesn't really get at the heart of Lent, does it? After all, Lent is not some weight-loss program that had holy water sprinkled over it. We make sacrifices during Lent to remind us that Christ has made the greatest sacrifice of all, and we want to join with him in this terrible beauty.  If you're going to give up something for Lent, here are a couple of ideas to make it a mindful Lenten practice. First, every time you find yourself reaching for that treat, pray. Just something simple, like "Jesus, I trust in you" or "Glory be to the Father and the Son…." Allow that craving to be redirected to worship. Second, figure out about how much money you spent on your treat. Are you buying a $4 latte every day? Do you stop and get fast food once or twice a week? Take that amount and donate it to a charity of your choice. Double those blessings!
Get the family involved. One way you may be called to Lent is to get the whole family involved. Catholic Relief Services' Operation Rice Bowl has some amazing and fun ways to get kids involved while learning about areas of the world where finding clean water and wholesome food can be a struggle.
Commit to daily prayer. Yes, you're busy. Yup, you've got work and kids and soccer and ballet and dinner and that big project due in April and… Yup, you are busy. Pray anyway.Finding 30 minutes of silence in your day is invaluable for your relationship with Christ. You call your mom every day, right? Or your best friend? You find 30 minutes a day to tinker in the wood shop downstairs, don't you? Then you've got the time. And Christ desperately wants to hear from you.
Make time for family. Sometimes we feel like we are spending time together simply because we live together. But with 5 people going in 15 directions, you probably aren't truly together that much. Spend Saturday night or Sunday afternoon making some popcorn and pulling out old board games. At the end of the game, tell each of the family members how much you love them and why you appreciate spending time with them.
Be grateful (and the flip side: Don't complain) We take so much for granted – from the fact that our spouse brings us coffee in bed every single morning to a vast array of things we have to amuse ourselves to the different flavors of ice cream at the local ice cream shop. Yet, we still find ways to be grumpy. To complain. To find fault. This Lent, flip that around. When you find yourself thinking, "This coffee isn't very hot; he does this every morning" stop yourself. Instead, think, "I am so blessed to have such a thoughtful spouse. Thank you, God for this blessing." Lift your thoughts from the negative to the prayerful positive.
Our annual Lenten practices are such a blessed opportunity for us to work on shedding our sinful nature and to grow closer to God, especially as we ponder daily the Life, Death, and Resurrection of His Son, Our Lord Jesus Christ. Heavenly Father, bless us as we ponder our Lenten journey. We desire to please you and to grow in faith. We beg that you help us with this good endeavors. We ask this through Christ Our Lord. Amen.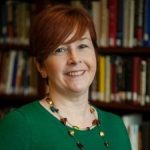 Elise Hilton is an author, blogger, and speaker. She has worked in parish faith formation and Catholic education for over 25 years. A passionate student of theology, Elise enjoys sharing her thoughts on parish communication, the role of social media in the Church, Franciscan spirituality and Catholic parenting. To inquire about booking her as a speaker, please contact her at ehilton@diocesan.com.