Have you ever known anyone who just seems to ooze hospitality? This person just happens to have a charger if you need one, or an extra sweatshirt or jacket when you are chilled. Maybe $20 for gas or food gets slipped in your pocket or added to your Venmo. A smile might greet you on an especially bad day or an offer to lend a hand when you are just about to drop the immense load you've managed to carry for much too long.

These are the things that come to mind while reading from the book of Wisdom this morning. A person who is able to reach out to another person on the day's journey no matter the situation. A graceful peace often accompanies this individual even when their own life is busy, and yet there is an intentional welcoming and shared response to those they encounter.
The Psalm, "My soul is thirsting for you, O Lord" continues this theme of reaching out. It is a prayer to see God in daily life as well as in eternal life. Being able to see the Lord in the everyday situations of my life is the building block of my faith in Him. As a child I wasn't able to verbalize that it was God's breath or touch I was seeing in a meal on the table or my Mom or Dad's smile. I could recognize when these things were missing and sometimes made it really hard to stay focused or believe that things would be resolved. I wasn't aware that I needed to thank the Lord for providing for me as my parents took care of my needs. I wasn't really aware that having loving and caring parents was itself a tremendous blessing and witness of love and faithfulness.
Today's parable of ten virgins waiting for the bridegroom can seem harsh. Five women turn up their lamps to light the way and accompany the bridegroom into the wedding celebration. The five who were not prepared came back with oil to find the door to the festivities locked. The awareness of what is needed in the moment comes through the faithful practice of God's way of life and is developed by wisdom and grace.

Lord, thank you ahead of time for the grace to ask about and know your Way. Help me to recognize and acknowledge the wisdom shared by those who are an example to me. Allow me to be a witness and light for others. Amen.
---
¿Alguna vez has conocido a alguien que practica generosamente la hospitalidad? Esta persona parece siempre tener un cargador si lo necesitas, o una sudadera o chaqueta adicional cuando tienes frío. Tal vez encuentres $20 para gasolina o comida en tu bolsillo o en tu cuenta de Venmo. Te saluda con una sonrisa en un día especialmente malo o ofrece echarte una mano cuando están a punto de caer unas bolas pesadas que has cargado un largo rato.
Estas son las cosas que me vienen a la mente al leer el libro de la Sabiduría esta mañana. Una persona que puede ayudar a otra persona en el camino diario sin importar la situación. Una paz agraciada a menudo acompaña a este individuo incluso cuando su propia vida está ocupada y, sin embargo, hay una bienvenida intencional y una respuesta compartida para aquellos con los que se encuentra.
El Salmo, "Señor, mi alma tiene sed de ti" continúa con este tema de tender la mano. Es una oración ver a Dios en la vida diaria así como en la vida eterna. Poder ver al Señor en las situaciones cotidianas de mi vida es la piedra angular de mi fe en Él. Cuando era niña, no podía verbalizar que era el aliento o el toque de Dios lo que estaba viendo en una comida en la mesa o la sonrisa de mi mamá o papá. Podía reconocer cuándo faltaban estas cosas y, a veces, me resultaba muy difícil mantener la concentración o creer que las cosas se resolverían. No sabía que debería agradecer al Señor por proveerme mientras mis padres se ocupaban de mis necesidades. Realmente no era consciente de que tener padres amorosos y afectuosos era en sí mismo una tremenda bendición y un testimonio de amor y fidelidad.
La parábola de hoy de las diez vírgenes que esperan al novio puede parecer dura. Cinco mujeres encienden sus lámparas para iluminar el camino y acompañar al novio a la celebración de la boda. Los cinco que no estaban preparados regresaron con aceite para encontrar la puerta de las festividades cerrada. La conciencia de lo que se necesita en el momento viene a través de la práctica fiel del camino de vida de Dios y se desarrolla por la sabiduría y la gracia.
Señor, gracias de antemano por la gracia de preguntar sobre tu Camino y conocerlo. Ayúdame a reconocer la sabiduría que me comparten los que me dan buen ejemplo. Permíteme ser testigo y luz para los demás. Amén.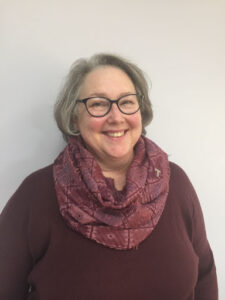 Beth Price is part of the customer care team at Diocesan. She is a Secular Franciscan (OFS) and a practicing spiritual director. Beth shares smiles, prayers, laughter, a listening ear and her heart with all of creation. Reach her here bprice@diocesan.com.
Feature Image Credit: Kalyanayahaluwo, pixabay.com/photos/oil-lamp-light-temple-monastery-5323648/