I always love when Jesus sits down to a meal because it means that something good is about to happen or that He is about to say something important. Same goes for today's Gospel.
However, today, I want to focus on the action of sitting down to a meal and less on the words that Jesus spoke (at least for the sake of this reflection). It's significant that Jesus sat down to dine at the home of one of the leading Pharisees. Let's not forget that the Pharisees were one of the groups of religious leaders trying to take down Jesus. So why would He go dine in one of their houses, let alone that of one of their leaders?
The act of sitting down to a meal with someone is an act of sharing across multiple levels. If you cook a meal for someone, you are sharing your own food with them. Even if you buy someone dinner at a restaurant, you are sharing your hard-earned money with them. At the heart of it all is a sharing of your time, which may be one of the most valued assets in society today. And at an even deeper level, it is a sharing of your very self, through the gift of your presence, your body language, your shared conversation and whatever level of relationship you have with the other person.
Coming back to the Gospel, Jesus is sharing His very Self with the Pharisees. His presence at the meal indicates that all are invited to be in relationship with Him, including His religious and political enemies. His words and His teachings are not just meant for his disciples and friends, they are meant for all.
There are two good lessons I think we can learn from Jesus' simple action of sitting down to eat with the Pharisees, one about mercy and one about evangelization. First, Jesus ate with His enemies. No matter what we've done or how far we've strayed or how poorly we might have treated Christianity in the past, Jesus wants to sit down and eat with us too. His goodness and His mercy are for everyone, including us. Second, if you want to share the good news about the Lord, consider doing it over a meal. There's something about the honesty and vulnerability that takes place while sitting down together and sharing food.
---
Siempre me encanta cuando Jesús se sienta a comer porque significa que algo bueno va a suceder o que está apunto de decir algo importante. Lo mismo ocurre en el Evangelio de hoy.
Sin embargo, hoy quiero centrarme en la acción de sentarse a comer y menos en las palabras que dijo Jesús (al menos por el bien de esta reflexión). Es significativo que Jesús se sentó a cenar en la casa de uno de los fariseos principales. No podemos olvidar que los fariseos eran uno de los grupos de líderes religiosos que intentaban derribar a Jesús. Entonces, ¿por qué iría a cenar a una de sus casas, y mucho menos a la de uno de sus líderes?
El acto de sentarse a comer con alguien es un acto de compartir en múltiples niveles. Si cocinas una comida para alguien, estás compartiendo tu propia comida con ellos. Incluso si invitas a alguien a cenar en un restaurante, estás compartiendo el dinero que tanto te costó ganar con ellos. En el centro de todo está el hecho de compartir su tiempo, que podría ser una de las cosas más valiosas en la sociedad actual. Y a un nivel aún más profundo, es un compartir de ti mismo, a través del don de tu presencia, tu lenguaje corporal, tu conversación compartida y cualquier nivel de relación que tengas con la otra persona.
Volviendo al Evangelio, Jesús está compartiendo Su propio Ser con los fariseos. Su presencia en la comida indica que todos están invitados a tener una relación con Él, incluyendo sus enemigos religiosos y políticos. Sus palabras y sus enseñanzas no están destinadas solo a sus discípulos y amigos, sino a todos.
Hay dos lecciones muy buenas que podemos aprender de la simple acción de Jesús de sentarse a comer con los fariseos, una sobre la misericordia y otra sobre la evangelización. Primero, Jesús comió con sus enemigos. No importa lo que hayamos hecho o lo lejos que nos hayamos desviado o que tan mal hayamos tratado al cristianismo en el pasado, Jesús también quiere sentarse a comer con nosotros. Su bondad y Su misericordia son para todos, incluyendo nosotros. Segundo, si deseas compartir la buena nueva del Señor, considera hacerlo durante una comida. Se encuentra algo en la honestidad y la vulnerabilidad que ocurre al sentarse juntos y compartir la comida.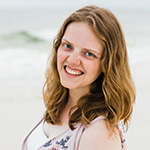 Erin is a Cleveland native and graduate of Franciscan University of Steubenville. She is passionate about the Lord Jesus, all things college sports and telling stories and she is blessed enough to get paid for all three of her passions as a full-time youth minister and a freelance sports writer.
Feature Image Credit: Hannah Busing, unsplash.com/photos/0BhSKStVtdM