"What's the best Christmas or birthday gift you've ever received?"
I posed this question to my Confirmation candidates in small groups recently, as a good way to start thinking about gifts. Then we could go a step further and talk about grace being a free and undeserved gift from God. Then one step further and talk about the sacraments being gifts of Jesus' own presence for us.
The candidates' answers were pretty standard – money, my phone, etc. – but one group started discussing why we receive gifts. Have we done anything to deserve them? No. Do we intentionally ask for them? Also no. Most of the time, these gifts are carefully selected for us by someone who knows us and loves us and cares about us, just for us because we are who we are.
Imagine how much joy the gift-giver experiences throughout the whole process. Imagine them picking up a gift off the shelf, looking it over and picturing the recipient's face when opening it. If the gift doesn't exude joy, the giver puts it back and picks up another one until their smile matches the one that will be on the recipient's face.
Our God is a generous giver and He loves to give good gifts to His children! In fact, He gives better gifts than any gift-giver here on earth ever could and we hear about this point in today's Gospel. In the passage, Jesus draws the comparison between earthly fathers and His Heavenly Father when it comes to generosity. Earthly fathers, who love their children but are fallen human creatures, still know how to give good gifts whereas God the Father is only Love and Truth and Goodness. How much greater are the gifts that He gives!
In His gifts, we find more love. We find more goodness and beauty. But, ultimately, God gave us the greatest gift in His Son, Jesus Christ, who became man, suffered and died for our sins and rose from the dead. Through his Passion, Death and Resurrection, we have been given the gift of eternal life with God, this intimate union with Him that we can't even imagine. Jesus also gives us the gift of Himself in the sacraments, particularly His Body, Blood, Soul and Divinity in the Eucharist, as nourishment for the journey.
What a gift indeed.
---
"¿Cuál es el mejor regalo de Navidad o cumpleaños que has recibido?"
Hace poco planteé esta pregunta a los candidatos a la Confirmación en grupos pequeños como una buena manera de empezar a pensar en los regalos. Entonces podríamos dar un paso más y hablar de que la gracia es un regalo gratuito e inmerecido de Dios. Luego, dimos un paso más y hablamos de que los sacramentos son regalos de la propia presencia de Jesús para nosotros.
Las respuestas de los candidatos fueron bastante estándar: el dinero, mi teléfono, etc., pero un grupo comenzó a discutir por qué recibimos regalos. ¿Hemos hecho algo para merecerlos? No. ¿Los pedimos intencionalmente? Tampoco. La mayoría de las veces, estos regalos son seleccionados cuidadosamente por alguien que nos conoce, nos ama y se preocupa por nosotros. Son únicamente para nosotros porque somos quienes somos.
Imagínate cuánta alegría experimenta la persona que da el regalo durante todo el proceso. Imagínate que toman un regalo del estante, lo miran y se imaginan la cara del destinatario al abrirlo. Si el regalo no emana alegría, el donante lo vuelve a colocar y toma otro hasta que su sonrisa coincida con la que estará en el rostro del destinatario.
¡Nuestro Dios es un dador generoso y le encanta dar buenos regalos a sus hijos! De hecho, Él da mejores regalos que cualquier otro dador de regalos aquí en la tierra y escuchamos sobre este punto en el Evangelio de hoy. En el pasaje, Jesús establece la comparación entre los padres terrenales y Su Padre Celestial cuando se trata de generosidad. Los padres terrenales, que aman a sus hijos pero son criaturas humanas caídas, aún saben dar buenos dones mientras que Dios Padre es sólo Amor y Verdad y Bondad. ¡Son mucho mejores los dones que Él da!
Dentro de sus dones, encontramos más amor. Encontramos más bondad y belleza. Pero, finalmente, Dios nos dio el regalo más grande en Su Hijo, Jesucristo, quien se hizo hombre, sufrió y murió por nuestros pecados y resucitó de entre los muertos. A través de su Pasión, Muerte y Resurrección, se nos ha dado el don de la vida eterna con Dios, esta unión íntima con Él que ni siquiera podemos imaginar. Jesús también nos da el don de Sí mismo en los sacramentos, particularmente Su Cuerpo, Sangre, Alma y Divinidad en la Eucaristía, como alimento para el camino.
Un verdadero regalo.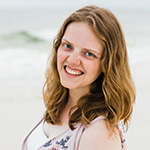 Erin is a Cleveland native and graduate of Franciscan University of Steubenville. She is passionate about the Lord Jesus, all things college sports and telling stories and she is blessed enough to get paid for all three of her passions as a full-time youth minister and a freelance sports writer.
Feature Image Credit: Ekaterina Shevchenko, unsplash.com/photos/ZLTlHeKbh04