When I think of the most relatable person in the Bible, Peter is often the first to come to mind. He messes up. A lot. The event we hear of in the Gospel is one of those times. Rather than embracing Christ's words with faith, we are told, "…Peter took him [Jesus] aside and began to rebuke him". But, at the same time, Peter also has great faith in who Jesus is. When Jesus asks Peter who He is, Peter's response is "You are the Christ".
So how does Peter go from a faith-filled acknowledgment that Jesus is Christ, the Messiah who has come to redeem man from his sin, to rebuking Jesus for teaching them the realities of what being the Christ will entail – rejection and death? And what does Jesus' response mean? "You are thinking not as God does, but as human beings do." How can we think like God does instead of as human beings do?
I think the answer to these questions lies in Peter's own expectations of what the Messiah, the Christ would be. If Christ is the one who redeems the world, that means that He must be powerful and strong which is what Peter expected. But Christ's explanation of what He will endure does not exactly align with the typical notion of power and strength. In fact, suffering greatly, being rejected by those in authority, and being killed all sound like the exact opposite of power and strength. But this is what Jesus means by thinking as human beings do. It takes work for us to see the power and strength at the center of God's plan for salvation. It took the strength only God possesses for Him to humble Himself, become man, and die on the cross for the sake of our salvation. For us to think as God does, we must let go of our expectations of who Christ is and acknowledge the strength and power that lay in the sacrifice He made for us.
In our faith, may we remember that our God is humble and strong. It is His strength that freed us from our sins and it is His humility that we seek to imitate when we come to Him in our moments of despair.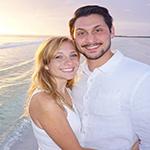 Dakota currently lives in Denver, CO and teaches English Language Development and Spanish to high schoolers. She is married to the love of her life, Ralph. In her spare time, she reads, goes to breweries, and watches baseball. Dakota's favorite saints are St. John Paul II (how could it not be?) and St. José Luis Sánchez del Río. She is passionate about her faith and considers herself blessed at any opportunity to share that faith with others. Check out more of her writing at https://dakotaleonard16.blogspot.com.
Feature Image Credit: Gime Salvatelli, https://www.cathopic.com/photo/16859-sacrificio