Today is the Memorial of the Passion of St. John the Baptist. The Gospel recounts the story of this event, and in it, there are two men, King Herod, and John the Baptist, one of them imprisoned and the other truly free.
Whenever I hear this story, I end up having some sympathy for Herod. He doesn't seem to want to kill John because something about the prophet struck at his heart. When Herod "heard him speak, he was very much perplexed, yet he liked to listen to him." Herod wasn't free to do what he truly wanted. He was enslaved by his sinfulness, by his choice to marry his brother's wife, by the opinions of his party guests, and by the fear of losing his reputation. Even though it was John who was sitting behind bars, it was Herod who was imprisoned.
St. Paul sums up this slavery to sin in Romans where he says, "For I do not do the good I want, but I do the evil I do not want. Now if [I] do what I do not want, it is no longer I who do it, but sin that dwells in me" (Romans 7:19-20).
John the Baptist, on the other hand, was radically free. His whole life was marked by a desire to do God's will, no matter the cost. He doesn't appear in the Gospels like a man terribly concerned with the opinions of others or his social status. He cooperated with the Lord to such an extent that he was able to do what he truly wanted, even when he knew that would cost him his life.
This radical freedom possessed by John is also freely available to us. The Catechism says that grace frees men from our enslavement to sin and heals our wounds (Catechism 1990) and that "the more docile we are to the promptings of grace, the more we grow in inner freedom and confidence during trials, such as those we face in the pressures and constraints of the outer world" (Catechism 1742).
Grace helps us recognize our true identity as sons and daughters of the Father. From that truth about ourselves, we understand that we don't have to earn our dignity and value from the opinions of others; instead, we are immeasurably valuable just because of who we are as children of God. And if we are God's children then, just like the prodigal son, we always have access to the Father's mercy and forgiveness when we sin. If we truly believed this about ourselves, like in the depths of our heart believed this, then we would no longer be enslaved by the fear of what others think or of losing our reputation. If we truly believed this, we would be able to do what we genuinely want to do.
So I invite you to sit with Jesus for a few minutes and in the quiet ask Him to show you where you are enslaved, to show you what prevents you from doing what you truly want, and ought, to do. And then ask St. John the Baptist, and all the holy martyrs, to pray for you for the grace that makes you truly free.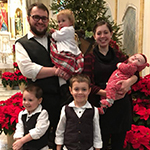 Paul Fahey is a husband, father, and a parish director of religious education. He can be found at his website, Rejoice and be Glad: Catholicism in the Pope Francis Generation or read his work at Where Peter Is.