I believe it was sometime in June when I signed up to write the reflection on this particular day. To be honest, I wasn't really paying attention to what the readings were or the feast day, I just picked a day that worked with my schedule. So I was surprised when I realized after the fact that it was the feast of Saint Maximilian Kolbe. Though I shouldn't have been surprised, it's not the first time Fr. Kolbe's feast day has caught me off guard.
As a kid I remember finding an old comic book about Maximilian Kolbe on my parents' bookshelf. I'm not sure why it was there. I don't recall my parents ever talking about this saint when I was growing up. Fr. Kolbe is the patron saint of prisoners, and my dad has been leading prison ministry for decades, so maybe that's why it was hanging around?
That comic was pretty much all I knew about Fr. Kolbe until I read a book about 20th century martyrs for a college course that had a chapter dedicated to this Polish priest. It was at that point that this saint started impacting my life. I read that chapter multiple times and offered to give a talk about Fr. Kolbe for my young adult group. In the preparation for that talk I was forced to articulate why this man fascinated me so much.
It was around that time that Pope Francis released his first encyclical, Lumen Fidei, The Light of Faith. There the pope says, "Faith does not merely gaze at Jesus, but sees things as Jesus himself sees them, with his own eyes: it is a participation in his way of seeing" (LF 18). Hang on to that idea for a second. Jesus is God, the Creator who caused the Big Bang and who transcends the universe. Time itself is as much a creature of God as giraffes are. Faith is the power to see the cosmos from God's vantage point, from beyond space and time.
What attracted me so much to Maximilian Kolbe was his faith. He spent months living in Auschwitz, Hell on earth. Yet all of the testimonies from fellow prisoners and guards give witness to a man who was the picture of peace. How could this be? Here I am, someone who gets all bent out of shape when I'm running ten minutes late for a meeting.
God's supernatural life had so transformed Fr. Kolbe into the likeness of Christ that he saw the world as Christ did. He was able to see his passion and death the way that Jesus saw His. He saw beyond the raging storm of the present, beyond space and time, and knew that this evil he was witnessing had already lost, that death ultimately had no sting. It was Fr. Kolbe's faith that both intrigued and challenged me.
Fast forward several years past that talk. My wife and I had been married nearly five years and had three kids, the youngest was nine months and the oldest was about to turn four. My wife suffered from pretty severe postpartum anxiety and after three kids pretty close together we decided that she really needed a break from pregnancy, infants, and postpartum for a few years. However, in addition to anxiety, my wife had other health problems that made practicing NFP especially difficult. The normal signs of fertility one would use to avoid pregnancy weren't so clear, and when this uncertainty mixed with postpartum anxiety and the stress of a newborn, let's just say it was a difficult time in our marriage.
In the midst of all that turmoil we found out that we were pregnant. Our other three kids weren't necessarily planned, but they were expected. But here we were with a pregnancy we were desperately trying to avoid. There's a lot of feelings that come with an unplanned pregnancy: fear, anxiety, anger, more fear, and shame. Shame for those passing thoughts about wanting the pregnancy to be over, about wishing this child didn't exist. It's a dark place to be.
Because we used NFP and charted my wife's cycles, we usually had a good idea of when our due date was (sometimes a better idea than the doctors). However, because my wife's cycles were so abnormal, we didn't know when the baby was conceived so we didn't have a due date. A few months into the pregnancy we went to the doctor for the routine checkup and they told us that our child was due on August 14.
When my wife and I realized that was Maximilian Kolbe's feast day it was like God saying to use that he wanted this child and that it would all work out. It was at that moment that the fear and anxiety started to leave. In that moment God gave us the faith of Saint Maximilian Kolbe. He helped us see beyond the turmoil of the present, to see beyond space and time.
Francis Kolbe Steven will be one years old on August 17th. He missed his due date by three days. The postpartum anxiety returned and so did the difficulties with NFP, but this little boy has filled our life with so much joy.
Pray for the faith of Fr. Kolbe. Pray for supernatural vision during the storms and trials of life, to see reality for what it truly is. Pray for us, Saint Maximilian Kolbe.
[Image Credit: Picture of Francis Kolbe Steven, used with permission from author]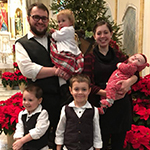 Paul Fahey is a husband, father, and a parish director of religious education. He can be found at his website, Rejoice and be Glad: Catholicism in the Pope Francis Generation.