Think back on a moment of life where everything changed. One of those crystal moments, where you know things will never be the same. Think of that moment when something you had been looking forward to became real; you were accepted at college, got your dream job, the moment your vocation became clear, the day of your marriage, the birth of your child.
These are such happy spots in our earthly lives! We are overcome with joy and delight. And, often, then reality sinks in. Can I cut it in college? What if I can't? What if I am not as good at this job as I think I will be? Can I really spend the rest of my earthly life this way? Am I willing to give everything to get this person to heaven? What if I fail as a parent? How does this change tomorrow? Will anything in my life ever be the same?
The same can happen as we experience the joy of Easter. Christ is risen, Alleluia! Something so minor as death cannot overtake our Lord!
But the questions come, what does this mean to me? Is Easter simply the ending of my Lenten penance? Can I now go back to eating chocolate and putting cream in my coffee without giving it another thought? Can I pick up that weekly grande latte again rather than giving to someone in greater need? Do I just pick up where I left off on Mardi Gras like Lent (and Easter) never happened? What has to change in my life because Jesus has risen? How does this change tomorrow? Will anything in my life ever be the same?
The Church, in her infinite motherly wisdom, again provides. Easter is not a single day after which we put away the bunnies and baskets and go back to our daily routine. Easter is a season which begins with the rising of Jesus and ends with the descent of the Holy Spirit as the grand finale! Lent was 40 days. Easter gives us 50 days to soak it all in. We have time to meditate on the reality of Easter, not to be fearful but to let our senses, honed by abstinence and penance, truly consider what it means to serve a risen Lord. Our Lenten penance isn't a thing of the past, it is now the prepared bedding where our Easter joy takes root. Our hearts and souls are ready to turn back to God for this time of grace and joy.
My prayer for you is that you are able to spend this Easter, all of Easter, not as a "getting back to normal" but as a time to find a new normal. To integrate in new ways, what it means to serve the One who overcame death through love. Like Mary Magdalene and the other Mary, may your joy at Easter so fill your heart that you run to share the news of Christ's love with all you meet.
Easter blessings!
Image Credit: Kelly Sikkema, https://unsplash.com/photos/NXv3XcMyDy0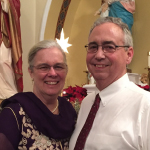 Sheryl gratefully serves the St. Therese Catholic School community as both the kindergarten teacher and the school principal. When not teaching, she takes the roll of student as she studies with her husband who is in formation to be Deacon in the Diocese of Kalamazoo. Their home is kept lively by their golden retriever, Carlyn and new puppy, Lucy.