Yesterday the verses of O Come, O Come Emmanuel were a welcome massage for my heart. Hearing the name of God-with-us cracks open our hearts to receive the light, the Light of the World.
The invitation of this morning's liturgy redirects our attention from commercial revelations to divine revelation. We almost catch our breath as we hear the nations cry out, "Come, let us climb the Lord's mountain…." The Lord's mountain will be seen as the highest mountain, according to the vision of the prophet Isaiah, speaking of the final age. Worship of the true God will be so conspicuous that it will be known to all people. The Kingdom established by the Messiah will be so attractive that all people will willingly lay aside the violence at hand to kneel before others in service: "They shall beat their swords into plowshares and their spears into pruning hooks."
This "mountain" envisioned by Isaiah is presented to us by today's Gospel reading as a Person, a man with two hands and two feet. The One who doesn't wait for us to climb the mountain but who instead comes to us who are poor, wretched, made up of a billion needs, and dependent. Jesus says to us, as he said to the centurion in Capernaum who appealed to him for his servant who was paralyzed, "I will come [to you] and heal you."
As Christians we can hold onto this sure promise even in the midst of the storms we live in: Christ has come. Jesus the Christ is here with us today. Christ will come again. Any tumultuous situation we might be facing cannot rob us of the grace we've been given, the grace freely bestowed on us in Christ by the Father.
Take heart, my friends, from the simple words of the centurion in today's Gospel. A simple, clear, humble statement: "Lord, my servant is suffering." Jesus immediately responds: "I will come and cure him."
Lord, I am old and worry about my life. I will save you.
Lord, I am exhausted and suffering. I will come and cure you.
Lord, my children are far from you and from me. I will come and cure them.
Lord, I don't know where to turn. I will come and hold you.
Lord, I feel alone and depressed. I will come and sit with you.
In the midst of all the struggles, trials and tribulations both in the world and in our lives, we must look to the Lord himself this Christmas, to the God who became man, who walks among us even today, even now. We must turn to the Lord, more than any other resource, to hear the Advent-Christmas promise: I will come. I have come. I will come again. There will be no shortage of Christ this Christmas.
---
Ayer los versículos de "Ven, O Ven Emmanuel" fueron un bienvenido masaje para mi corazón. Escuchar el nombre de Dios-con-nosotros abre nuestros corazones para recibir la luz, la Luz del Mundo.
La invitación de la liturgia de esta mañana redirige nuestra atención de las revelaciones comerciales a la revelación divina. Podemos respirar de nuevo cuando escuchamos a las naciones clamar: "Vengan, subamos al monte del Señor…". El monte del Señor será visto como el monte más alto, según la visión del profeta Isaías, hablando de los últimos tiempos. La adoración del Dios verdadero será tan conspicua que será conocida por todas las personas. El Reino establecido por el Mesías será tan atractivo que todas las personas voluntariamente dejarán de lado la violencia para arrodillarse ante otros en servicio: "De las espadas forjarán arados y de las lanzas, podaderas".
Este "monte" imaginada por Isaías se nos presenta en la lectura del Evangelio de hoy como una Persona, un hombre con dos manos y dos pies. Aquel que no espera a que nosotros subamos al monte sino que viene a nosotros que somos pobres, miserables, hechos de mil millones de necesidades y dependientes de él. Jesús nos dice, como le dijo al centurión en Cafarnaúm que le suplicaba por su siervo que era paralítico: "Voy a curarlo".
Como cristianos podemos aferrarnos a esta promesa segura incluso en medio de las tormentas en las que vivimos: Cristo ha venido. Jesucristo está aquí con nosotros hoy. Cristo vendrá de nuevo. Cualquier situación tumultuosa que podamos enfrentar no puede robarnos la gracia que se nos ha dado, la gracia que el Padre nos ha otorgado gratuitamente en Cristo.
Anímense, amigos míos, al oír las sencillas palabras del centurión en el Evangelio de hoy. Una declaración sencilla, clara y humilde: "Señor, tengo en mi casa un criado que está en cama, paralítico, y sufre mucho". Jesús responde inmediatamente: "Voy a curarlo".
Señor, soy viejo y me preocupo por mi vida. Voy a salvarte.
Señor, estoy exhausto y sufriendo. Voy a curarte.
Señor, mis hijos están lejos de ti y de mí. Voy a curarlos.
Señor, no sé a dónde acudir. Voy a abrazarte.
Señor, me siento solo y deprimido. Voy a sentarme contigo.
En medio de todas las luchas, pruebas y tribulaciones tanto en el mundo como en nuestras vidas, debemos mirar al Señor mismo esta Navidad, al Dios que se hizo hombre, que todavía camina entre nosotros ahora, el día de hoy. Debemos acudir al Señor, más que a cualquier otro recurso, para escuchar la promesa de Adviento y Navidad: Yo vendré. He venido. Vendré de nuevo. No faltará Cristo esta Navidad.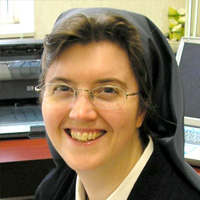 Sr. Kathryn James Hermes, FSP, is an author and offers online evangelization as well as spiritual formation for people on their journey of spiritual transformation and inner healing. Website: www.touchingthesunrise.com My Books: https://touchingthesunrise.com/books/
Public Facebook Group: https://www.facebook.com/groups/srkathrynhermes/ HeartWork Spiritual Formation Group: https://touchingthesunrise.com/heartwork/
Feature Image Credit: Myriam Zilles, unsplash.com/photos/VCD30upyhc8