We all wonder what God is like: is He some old white guy on a cloud? Is He a He? Does He have arms to hug me? Where is God and what's He like? Today's readings are bursting with information about God.
The readings begin with Isaiah. He's telling the Jews that God is faithful: He is keeping the covenant He made so long ago with Abraham. God will be the God of Israel and they will be His people. Forever. No additions or subtractions, no fast-talking sales man pitch: forever. Isaiah even tells the people of Israel to rejoice, sing out! (And Isaiah is not really known for his light-heartedness.)
Psalm 145 is the responsorial psalm today. In just a few short lines we learn that God is gracious and merciful, slow to anger and kind. The Lord is compassionate, faithful, holy. Those that have fallen are gently lifted up by God. He is just and truthful, and He calls out the name of those near to Him.
Wow. This is our God. What an amazing and hopeful faith we have!
Finally, in the Gospel of John, Jesus speaks to the Jews. These are the same people Isaiah spoke to. They know about God's covenant; it's in the marrow of their bones. Their life centers on God and His laws and His plans for them. Jesus makes it clear that He is doing the work of God the Father. If the Jews want to know more about God, they need to look at Jesus.
For the Father loves the Son
and shows him everything that he himself does,
and he will show him greater works than these,
so that you may be amazed. (Jn 5:20)
"Amazed." The Jews that Jesus were speaking to had no idea what "works" the Father was going to show. We do. Are we amazed? Are we astounded? Astonished? Do we wake up every morning rather dumbfounded at the blessings God has provided with us? Do we look upon our family and friends and are almost blown away by the love?
More importantly, do we enter into prayer and liturgy with amazement? Do we worship knowing that the unbelievable is believable – that God so loved us He sent His only Son to come among us, teach us, be a model for us, feed us His very Body and Blood, and ultimately take our sins upon Himself so as to destroy death?
Are we amazed?
Today, be amazed at God. Be amazed at Christ, Be amazed at the Holy Spirit. He is our God and He is amazing.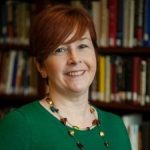 Elise Hilton is an author, blogger and speaker. Her role at Diocesan Publications is Editor & Writer with the Marketing Team. She has worked in parish faith formation and Catholic education for over 25 years. A passionate student of theology, Elise enjoys sharing her thoughts on parish communication, the role of social media in the Church, Franciscan spirituality and Catholic parenting. To enquire about booking her as a speaker, please contact her at ehilton@diocesan.com.