Merry Christmas Eve! Let's admit it, all of us are probably hustling and bustling all day today to get ready for the next two days of parties and dinners and gift giving. So thank you. Thank you for stopping for a couple minutes, for sitting down to breathe and read today's reflection. Thank you for remembering the true reason for the season, the Nativity of Our Lord Jesus Christ.
For that is what we celebrate tomorrow, that is why we have spent the last four weeks of Advent preparing for His birth and His coming into the world. It is not the celebration of Santa Claus coming to town but, rather, the arrival of the Savior of the world. It's not about making more room for gifts under the tree but, rather, making room in our hearts for Love Himself to come and dwell. It's not about opening gifts on Christmas morning, but rather receiving the Greatest Gift that God has ever given us, the gift of His very Son.
If we have lost sight of the true meaning of Christmas amidst all of the hustle and bustle, there is still time to refocus and resettle our hearts. One of the best places to start is by examining our attitude toward Christmas Mass. Is attending Mass the priority for our Christmas celebration or is it something we are squeezing into our already busy schedule? Are we arriving early to ensure we get a seat in the church or are we arriving early to enter into prayer so as to prepare our hearts to receive our Lord in the Eucharist? Are we fully present during Mass, receiving the readings and praying with great fervor and intention, or are we running through our mental checklist of everything we have to do after Mass is over? This last one is for me and my fellow church employees … are we truly celebrating and worshiping this Christmas or do we see these next two days as simply two more days of work?
As we enter into this vigil celebration of the Nativity of the Lord, let us keep Him firmly in our sights. Let Him be at the center of all that we do over these next two days. And may His joy, love and peace reign in our hearts this season and each day moving forward.
---
¡Feliz Nochebuena! Si somos honestos, lo más seguro es que andamos apurados todo el día con los últimos preparativos de los próximos dos días de fiestas, cenas y entrega de regalos. Así que muchas gracias. Gracias por detenerte un par de minutos, por sentarte a respirar y leer la reflexión de hoy. Gracias por recordar el verdadero motivo de la temporada, la Natividad de Nuestro Señor Jesucristo.
Porque eso es lo que celebramos mañana, por eso hemos pasado las últimas cuatro semanas de Adviento preparándonos para Su nacimiento y Su venida al mundo. No es la celebración de la llegada de Papá Noel, sino la llegada del Salvador del mundo. No se trata de hacer más espacio para los regalos debajo del arbolito, sino más bien de hacer espacio en nuestros corazones para que el Amor mismo venga y habite. No se trata de abrir los regalos en la mañana de Navidad, sino de recibir el regalo más grande que Dios nos ha dado, el regalo de su propio Hijo.
Si hemos perdido de vista el verdadero significado de la Navidad en medio de todo el ajetreo, todavía hay tiempo para reenfocar y reestablecer nuestros corazones. Uno de los mejores lugares para comenzar es examinar nuestra actitud hacia la Misa de Navidad. ¿Asistir a Misa es la prioridad para nuestra celebración de Navidad o es algo que simplemente metimos en nuestro horario por deber? ¿Llegamos temprano para asegurarnos un asiento en la iglesia o para entrar en oración para preparar nuestros corazones para recibir a nuestro Señor en la Eucaristía? ¿Estamos completamente presentes durante la Misa, recibiendo las lecturas y orando con gran fervor e intención, o estamos repasando la lista de quehaceres en la mente de todo lo que nos espera después de que termine la Misa? Este último es para mí y mis compañeros que trabajan para la iglesia… ¿realmente estamos celebrando y adorando esta Navidad o vemos estos próximos dos días como simplemente dos días más de trabajo?
Al entrar en esta celebración de la vigilia de la Natividad del Señor, mantengamos a Jesús firmemente en mente. Que Él esté en el centro de todo lo que hagamos durante los próximos dos días. Y que Su alegría, amor y paz reine en nuestros corazones esta temporada y cada día por venir.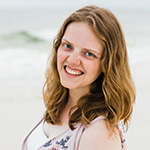 Erin is a Cleveland native and graduate of Franciscan University of Steubenville. She is passionate about the Lord Jesus, all things college sports and telling stories and she is blessed enough to get paid for all three of her passions as a full-time youth minister and a freelance sports writer.
Feature Image Credit: Walter Chávez, unsplash.com/photos/TEFSPAaoKlA