We are blessed to be able to send our children to our parish's Catholic grade school. Different grades are in charge of different annual celebrations throughout the year. 3rd grade always creates a Saints Gallery for All Saints Day. The 5th grade hosts a Veterans Day Prayer Service for the whole community, not just the school. Our oldest daughter is in 4th grade and she has been bubbling with excitement over her grade's special celebration – the annual Our Lady of Guadalupe Play.
Rosie, our daughter, is going to be one of the narrators. She knows her part (as well as many of the others, they have practiced so much!) backwards and forwards. There are sets, costumes, music, it's a full blown play. A few nights before the performance, and knowing I would be writing this reflection, I thought it might be nice to get her perspective on the story and hear what she has learned. This is what she said.
"I didn't realize that Juan Diego's tilma is still in Mexico today. Our teacher's husband has actually gone to Mexico and seen it. If Juan Diego came back today, he could probably still wear it!"
I knew the story already, but I didn't know much about Juan Diego's uncle. I didn't know that he had been so cured of his illness, he didn't even need a cane anymore. It was like he was cured of his old man-ness, not just of his illness! (I am writing this before seeing the play, so I'm assuming that Juan's uncle makes a rather dramatic recovery in this rendition).
I love that one of the lessons Rosie is learning is the overabundant generosity and love of God. Juan's uncle could be portrayed as simply sitting up in bed with a smile on his face, and have that be the end of it. But no. He jumps and shouts for joy, cured of more than just the illness that ailed him. The kids, and their teachers who are guiding the production, have honed in on one of the important messages of Our Lady of Guadalupe: God's overwhelming love for His little ones.
Look at Mary, coming not to the bishop or local rulers, but to Juan, a local peasant. Mary goes out and finds Juan even when he goes out of his way to try to find a priest for his uncle. Instead of chastising him, she offers him not 1 but 3 miracles – his uncle's cure, the roses in bloom, and her image on his tilma. Over and over again, this image has brought millions closer to Christ. Mary wants nothing more than for her little ones to come to know her Son. Let's let her draw us close so she can gently shower us with her love as we walk to Christ together.
---
Tenemos la bendición de poder enviar a nuestros hijos a la escuela primaria católica de nuestra parroquia. Los diferentes grados están a cargo de diferentes celebraciones anuales a lo largo del año. El tercer grado siempre crea una Galería de Santos para el Día de Todos los Santos. El quinto grado organiza un servicio de oración del Día de los Veteranos para toda la comunidad, no solo para la escuela. Nuestra hija mayor está en cuarto grado y ha estado rebosante de entusiasmo por la celebración especial de su grado: la obra anual de Nuestra Señora de Guadalupe.
Rosie, nuestra hija, va a ser una de las narradoras. Ha memorizado sus líneas (así como muchas de las otras, ¡han practicado mucho!). Hay escenarios, disfraces, música, es una obra de teatro bien bonita. Unas noches antes de la actuación, y sabiendo que estaría escribiendo esta reflexión, pensé que sería bueno conocer su perspectiva sobre la historia y escuchar lo que ha aprendido. Esto es lo que ella dijo.
"No sabía que la tilma de Juan Diego todavía está en México hasta el día de hoy. El esposo de nuestra maestra fue a México y lo vio en persona. Si Juan Diego volviera hoy, ¡probablemente todavía podría ponersela!".
Ya conocía la historia, pero no sabía mucho sobre el tío de Juan Diego. No sabía que se había curado tanto de su enfermedad, que ya ni siquiera necesitaba un bastón. ¡Era como si se hubiera curado de su vejez, no solo de su enfermedad! (Estoy escribiendo esto antes de ver la obra, así que creo que el tío de Juan se recupera bastante dramáticamente en esta interpretación).
Me encanta que una de las lecciones que mi hija está aprendiendo es la sobreabundante generosidad y el amor de Dios. El tío de Juan podría ser retratado simplemente sentado en la cama con una sonrisa en su rostro, y que eso sea el final. Pero no. Salta y grita de alegría, curado de algo más que la enfermedad que lo aquejaba. Los niños y sus maestros, quienes están guiando la producción, se han concentrado en uno de los mensajes importantes de Nuestra Señora de Guadalupe: el amor abrumador de Dios por Sus pequeños.
Mire a María, que no se acerca al obispo ni a los gobernantes locales, sino a Juan, un campesino local. Mary sale y encuentra a Juan incluso cuando él se desvía de su camino para tratar de encontrar un cura para su tío. En lugar de castigarlo, ella le ofrece no uno sino tres milagros: la curación de su tío, las rosas en flor y su imagen en la tilma. Una y otra vez, esta imagen ha acercado a millones a Cristo. María no quiere nada más que sus pequeños lleguen a conocer a su Hijo. Dejemos que ella nos acerque para que pueda bañarnos suavemente con su amor mientras caminamos juntos hacia Cristo.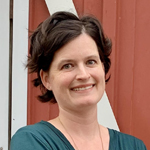 Kate Taliaferro is an Air Force wife and mother. She is blessed to be able to homeschool, bake bread and fold endless piles of laundry. When not planning a school day, writing a blog post or cooking pasta, Kate can be found curled up with a book or working with some kind of fiber craft. Kate blogs at DailyGraces.net.
Feature Image Credit: Irina Iriser, www.pexels.com/photo/white-petaled-flower-1122625/