Stress.
There cannot be one person reading this who hasn't experienced it as a major factor in their lives. We're all stressed, it seems, from the moment we get up in the mornings until we lie down for a troubled sleep at night. Appointments, deadlines, worries, fears all contribute to our levels of stress (and even more so when they're missed appointments or forgotten deadlines!), and our diets and lack of exercise don't help. Let's face it, we're a stressed-out nation.
That's proven a goldmine for a plethora of professions and manufacturers who cater to the stressed. The same smartphones that keep us ridiculously connected also offer meditation and mindfulness apps. There are vitamins and supplements that claim to lower anxiety, exercises and yoga and gym memberships to counteract its effects, and promises that the next self-help bestseller will absolutely be the magic bullet to help us find wellness and calm.
As Catholics, we have a slightly different take on the whole question of stress. Oh, of course, we too should be eating more leafy greens and less sugar; we need to go for brisk walks and drag ourselves away from our computer screens like everybody else. But we're blessed by the fact that Jesus knew all about stress, and gave us the one prescription for it that actually works.
It's ridiculously simple, which may be why many of us find it hard to put into practice. But today's reading from the Gospel of St. Matthew could not be clearer; we are called to be different. Followers of Jesus think and behave differently from the pagans. In particular this message can be boiled down to a few points:
You can't love God and money both. Choose.
Worrying means that you're taking life into your own hands instead of giving it to God.
God absolutely loves you. All the time, every day.
Don't think about what is unimportant, but focus on heaven. Anything else is secondary.
The things that stress us out the most are generally the least important. What does that deadline have to do with your salvation? Will you get to heaven any faster by worrying about buying that new car?
We live in our culture and it makes some demands on us that we must meet. We have to have a place to sleep. We need to have food to eat. We'd like to have a good education, a decent job, a fun vacation. And these aren't frivolous or unworthy goals; the problem is that we allow them to become our only goals.
We should have one goal: to be united with God. Everything else is secondary. Love God with all your heart; have faith that he will provide for you; don't confuse essentials with nonessentials. You cannot serve God and money at the same time. If you spend your time worrying about accumulating money—and all the things that go along with it—then, Jesus tells us, your faith is small. You can do better.
Take a deep breath, trust in God, and… let go. You'll be surprised at how quickly you'll de-stress!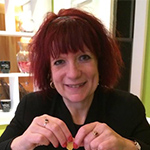 Jeannette de Beauvoir works in the digital department of Pauline Books & Media as marketing copywriter and editor. A graduate of Yale Divinity School, where she studied with Adian Kavanagh, OSB, she is particularly interested in liturgics and Church history.