What wonderful messages from our Lenten readings today! From our first reading by Isaiah we get a sense of the extraordinary life that our Lord promises us and today's pre-Gospel verse and reading from John provide insight into how to get there. We begin with Isaiah's reading and the Lord's promise of a world free from pain and sorry and, instead, full of joy and gladness. It is believed that Isaiah is writing about this utopian world in apocalyptic language and, thus, it should not necessarily be taken literally. Instead, it provides insight into what life could be on earth and what certainly awaits us following our death. God undoubtedly provides us the means to minimize suffering and sadness in our lives and to maximize the wellbeing of all on earth. It is through the teachings and actions of Jesus and his message of love and compassion for others that guide us during this Lenten season and beyond.
Following the teachings of Jesus is not always easy. Our pre-Gospel reading reminds us of that and the importance of not necessarily being perfect and free of evil but, instead, to seek good in all we do. Lent is that pathway in which we reflect on our faults and do what we can to address these and to become the best we can in God's eyes. And to me that involves doing all I can to not only follow the teachings of Jesus, but to seek out a life based on the example that he provided to us while on earth. Although this is difficult to do and I am certainly not close to perfect, I am reassured that the Lord will accompany me along the way.
John's reading highlights the healing power of Jesus but, more importantly, addresses the value of faith. As seen in the John's reading, the royal official wanted Jesus to visit his ill son who was near death in order to save him. Although Jesus healed his son, he chastised the man and others for seeking "signs and wonders" in order to believe. As we progress through Lent, John reminds us of the importance of having faith in the word of God. And rather than coming to God only when we need him, to open up a daily conversation with God and to trust that He will answer our prayers in His way and not necessarily according to our wishes or expectations for He knows us best. The key is to be open to God's words, to seek good in all we do, and to have faith as we progress through the Lenten season on a journey that will lead to a long, beautiful, and joyous life with God!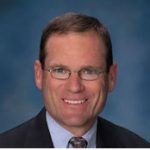 Today's guest blogger is Michael Kavan, currently the Associate Dean for Student Affairs at Creighton University School of Medicine. He is also a psychologist and a Professor of Family Medicine and Professor of Psychiatry. A faculty member at Creighton since 1988, Kavan teaches classes on a variety of topics related to behavioral medicine, depression, anxiety, and interviewing skills for medical students and residents. He also practices psychology at a family medicine clinic.
Kavan says, "I am happily married to my wife, Mary, and we have four daughters ages 22, 21, 18, and 14. I truly enjoy working with medical students and assisting in their professional development. I like to spend time cycling, running, fly fishing, reading, and spending time with my family."
[This reflection is used by permission from Creighton University's Collaborative Ministry Office.]